October 13, 2013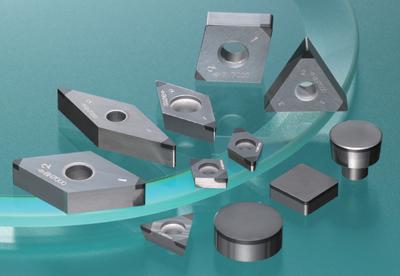 Sumitomo Electric Carbide Inc. introduces the high performance BN7000 turning system for the machining of cast iron.
The BN7000 Grade possesses CBN particles that are densely sintered for the maximum CBN content possible, resulting in high wear and breakage resistance. The strength of CBN particles provides chipping resistance which ensures stable performance and long tool life in high-efficiency machining of cast iron. It also offers excellent wear and thermal crack resistance in high speed machining of grey cast iron. Multi-tip inserts result in a more cost effective solution for the customer.
The BN7000 offers machining stability through three edge preparations that optimize cast iron applications. Along with the standard edge preparation, the BN7500 is available in LF (sharper) and HS (stronger).
Related Glossary Terms
cubic boron nitride ( CBN)


cubic boron nitride ( CBN)

Crystal manufactured from boron nitride under high pressure and temperature. Used to cut hard-to-machine ferrous and nickel-base materials up to 70 HRC. Second hardest material after diamond. See superabrasive tools.

edge preparation


edge preparation

Conditioning of the cutting edge, such as a honing or chamfering, to make it stronger and less susceptible to chipping. A chamfer is a bevel on the tool's cutting edge; the angle is measured from the cutting face downward and generally varies from 25° to 45°. Honing is the process of rounding or blunting the cutting edge with abrasives, either manually or mechanically.

turning


turning

Workpiece is held in a chuck, mounted on a face plate or secured between centers and rotated while a cutting tool, normally a single-point tool, is fed into it along its periphery or across its end or face. Takes the form of straight turning (cutting along the periphery of the workpiece); taper turning (creating a taper); step turning (turning different-size diameters on the same work); chamfering (beveling an edge or shoulder); facing (cutting on an end); turning threads (usually external but can be internal); roughing (high-volume metal removal); and finishing (final light cuts). Performed on lathes, turning centers, chucking machines, automatic screw machines and similar machines.