December 13, 2012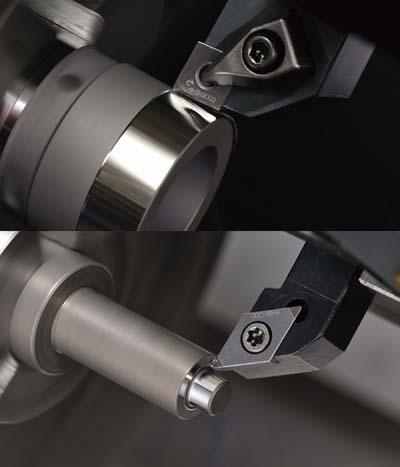 Sumitomo Electric Carbide Inc. advances uncoated turning in bearing and die steel manufacturing with the new BN1000 and BN2000. The new uncoated grades deliver an effective solution in high-speed to general purpose turning.
The BN1000 supplies users with excellent tool life in continuous cutting to light-interrupted cutting. High speed finishing of die steels and bearings is made possible through improved fracture and wear resistance. The BN1000 sets the bar for high-speed uncoated turning.
The BN2000 provides a general purpose grade for the machining of hardened steel. When machining bearings or die steels, the BN2000 provides stable tool life on continuous cutting to medium interrupted cutting.
The uncoated series derives from a newly developed high-purity ceramic binding. This advanced binding increases heat resistance while strengthening the tolerated cutting force. The BN1000 and BN2000 are available in single corner and multi-corner type inserts.
Related Glossary Terms
cutting force


cutting force

Engagement of a tool's cutting edge with a workpiece generates a cutting force. Such a cutting force combines tangential, feed and radial forces, which can be measured by a dynamometer. Of the three cutting force components, tangential force is the greatest. Tangential force generates torque and accounts for more than 95 percent of the machining power. See dynamometer.

turning


turning

Workpiece is held in a chuck, mounted on a face plate or secured between centers and rotated while a cutting tool, normally a single-point tool, is fed into it along its periphery or across its end or face. Takes the form of straight turning (cutting along the periphery of the workpiece); taper turning (creating a taper); step turning (turning different-size diameters on the same work); chamfering (beveling an edge or shoulder); facing (cutting on an end); turning threads (usually external but can be internal); roughing (high-volume metal removal); and finishing (final light cuts). Performed on lathes, turning centers, chucking machines, automatic screw machines and similar machines.

wear resistance


wear resistance

Ability of the tool to withstand stresses that cause it to wear during cutting; an attribute linked to alloy composition, base material, thermal conditions, type of tooling and operation and other variables.