February 12, 2012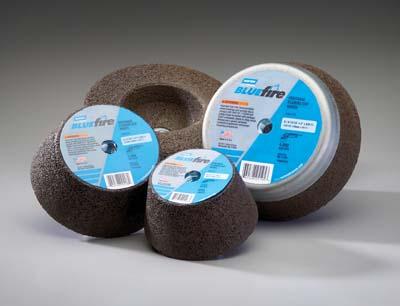 Norton has introduced BlueFire zirconia aluminum portable foundry wheels for the metal fabricating industry. BlueFire Portable Cup Snagging Wheels provide exceptional performance improvements over conventional zirconia products in foundries, welding shops, fabrication facilities, steel mills, and shipyards, including a reduction in grind time of over 40 percent and an increase of almost 130 percent in G-ratio.
Norton's BlueFire portable snagging cup wheels are positioned as Norton's "better" choice for steel, iron and graphite foundry snagging jobs. More friable zirconia alumina grain and durable resin bond technologies provide higher metal removal rates than standard zirconia alumina blends and enable the grain to stay sharper and free-cutting longer, for increased wheel life on high- and medium-pressure applications. The wheels enjoy a strong operator preference due to the fact that less pressure and exertion is needed to complete the job, which reduces jamming and gouging of the work piece.
"Our new BlueFire portable foundry wheels for the metal fabricating industry provide the ideal balance of performance and price for steel, iron and graphite applications such as removing gates and risers, flaws and cracks from a workpiece, smoothing weld seams, cleaning casting and rough beveling," said David Long, Director of Marketing and Strategy at Saint-Gobain Abrasives.
BlueFire portable foundry wheels are available in 4NZ for tough metal removal jobs as well as NZC and NZAC for steel and dirty, scale-covered castings. An extended cutting capacity ensures less down time and higher productivity with less operator time required to remove more material. Wheels are available in many stock sizes from 4/3" x 2" x 5⁄8-11" to 6/4-13/16" x 2" x 5⁄8-11".
Related Glossary Terms
G-ratio


G-ratio

Measure of the grinding performance defined as the volume of metal removed divided by the volume of grinding wheel worn away in the operation.