September 04, 2018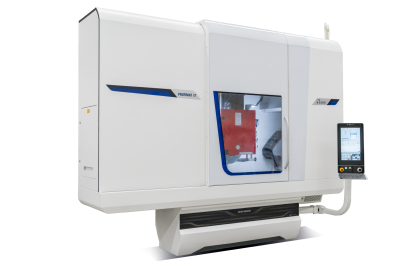 The new BLOHM PROFIMAT XT is the next generation of heavy-duty continuous dress creep feed grinders. The machine combines exceptional rigidity and power with fast axis speeds for enhanced grinding productivity.
Table speeds greater than 1,500 in/min, along with a quick changeover wheel-dresser system and improved acceleration/deceleration rates, offer optimal positioning speeds and short cycle times. Optional features include table dresser systems, HSK wheel flanges and a linear drive table to produce reciprocal grinding speeds up to 3,000 in/min for fine surface finishes. Additional grinding advances include dual left and right coolant nozzles with the RazorTec wheel cleaning system.
Applying spindle power up to 80 hp with grinding wheel widths up to 8", the BLOHM PROFIMAT XT excels at machining large parts with high stock-removal requirements. The new machine's speed improvements increase axis movement by 100 percent and acceleration/deceleration by 200 percent, enabling overall grinding cycle time reductions of up to 30 percent thanks to fully optimized positioning. To improve stiffness, BLOHM introduced a ribbed base and column casting with dual ballscrews for Z-axis cross-grinding stability.
The machine is equipped with a Siemens SINUMERIK 840D sl control that features a touch screen monitor and Windows-based graphical user interface. UNITED GRINDING customized this advanced human-machine interface (HMI) to provide grinding process data, machine health monitoring, operational efficiency and graphical product information.