January 27, 2016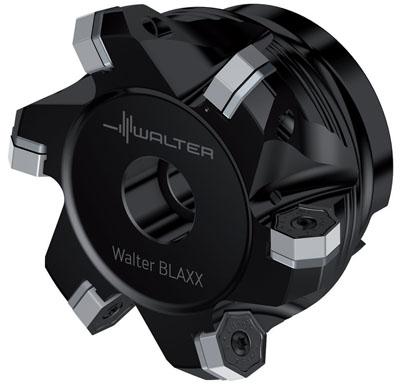 Walter has unveiled the Walter BLAXX M3024 heptagon milling cutter, the latest entry in its line of high-productivity milling tools. The M3024, in diameters from 1.5" to 6.0" (40mm to 160mm) boasts the line's trademark wear-protected black tool body, plus indexable inserts with 14 cutting edges, which reduces tooling costs.
For increased productivity the inserts are formed of Walter's advanced cutting tool material, Tiger·tecSilver. Tiger-tec Silver is available in two CVD coated grades (WKP25S, WKP35S) for the machining of steel and cast iron, and three PVD coated grades (WSM35S, WKK25S and WSP45S) for the machining of steel, stainless steel, cast iron and difficult to cut materials.
Further, the inserts are secured by Torx Plus screws, adding an extra level of stability, and thus process reliability. In addition, a screw-secured solid carbide shim provides optimal support and high feed per tooth, plus optimal contact in the pocket.
Along with a higher level of reliability and lower tooling costs, the new Walter BLAXX M3024 heptagon milling cutter boasts a high metal-removal rate, even on low-performance machines, thanks to its positive cutting action. The M3024 comes in three geometries: The F27, the F57 and the F67, which optimize stability, universal application, and easy cutting action, respectively.