May 18, 2016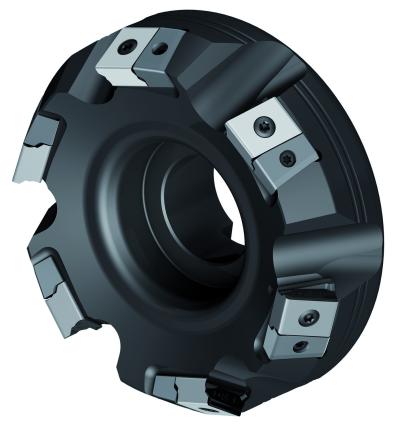 Walter has introduced the Walter BLAXX M3016, a heavy-duty milling cutter with the ruggedness and power needed to make heavy cuts seem easy. The M3016 tackles ISO material groups P, M and K, and difficult applications such as machining frames made from cast iron for large molds, or housings for wind energy rotor hubs.
In addition, the M3016, which is aimed chiefly at milling and boring machines, delivers superior process reliability even with older machines, according to the company. These and other advantages derive from a number of factors, such as the M3016's carbide axial stop for high process reliability. This works as an emergency cutting edge to protect the clamping screw and insert pocket from damage, reducing tooling costs in the process. Additionally, the M3016 uses four grades of Walter's advanced Tigeṙ·tec Silver cutting tool material: WKP25S, WKP35S (CVD) and WKK25S, WSP45S (PVD), which boosts both tool life and process reliability, while also reducing cutting material costs.
The M3016 is available with an approach angle of 60° for diameter range 4.9 to 12.4 in. (125-315 mm). One insert style simplifies administrative tasks allowing both time and money to be saved. Additional diameters and lead angles can easily be obtained by ordering through Walter Xpress, the company's short lead time service for specials.