July 01, 2019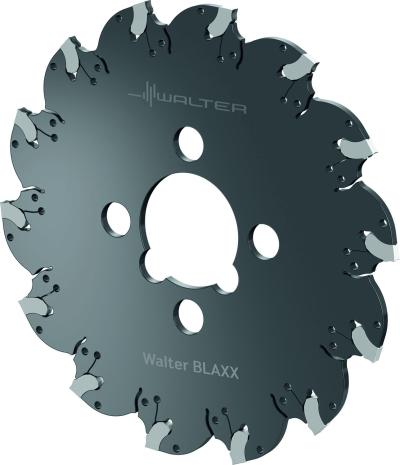 Walter has introduced the Walter BLAXX F5055, a slitting cutter with excellent process reliability, accuracy and tool life. It teams the extremely robust and precise construction of Walter BLAXX with the Walter Cut SX system of inserts. Based on self-gripping, form-locking indexable inserts and directing the cutting force into the tool, the Walter Cut SX system helps give the Walter BLAXX F5055 slitting cutter its superior process reliability with safe clamping of the insert even at higher speeds.
Indexable inserts for the F5055 are available in a variety of grades and chip breakers to allow applications in a wide range of materials. The SF5 geometry in either grade WSM33S (harder) or WSM43S (tougher) is the primary choice for slot milling applications. Or, if machining aluminum, the SK8 geometry, in the uncoated WK1 grade, is also offered.
The Walter Cut SX grooving system and the F5055 use the same indexable inserts, so users benefit from reduced inventory costs and additional grades and geometries. Walter supplies the F5055 in diameters of 63 to 500 mm for insert widths and cutting widths of 1.5 to 5.0 mm.
Drive collars are available for arbor-mounting configurations, but adaptors for either ScrewFit or shell mill-mount configurations in both inch and metric pilot dimensions, are also available.
The tool is suitable for cast-iron, steel and stainless-steel components. In addition, it also handles materials with difficult cutting properties such as in the aerospace industry, where production of large volumes of the highest-quality components demands tools with exceptional reliability.