November 01,2011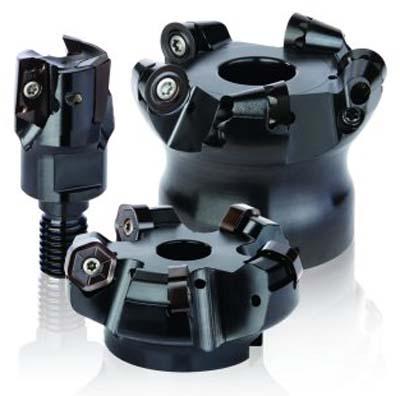 Kennametal is introducing the new BeyondTM KCPM20 grade indexable milling insert, specially engineered for high-speed dry machining in light to medium milling of steel and stainless steel parts under stable conditions. KCPM20 is being recommended as an ideal optimization grade for stainless steel machining applications where coolant is not used and excellent wear resistance is required.
Each specific Beyond grade from Kennametal is optimized with substrate characteristics and coating thickness specific to its application. The result is productivity improvement and an expanded range of application for each new product compared to the original grade.
All new Beyond inserts are CVD (chemical vapor deposition) coated, but whereas conventional CVD coatings are under tensile stress, Beyond inserts undergo a proprietary post-coat treatment on all surfaces to reduce this stress, which improves coating adhesion and reduces micro-chipping. More uniform and reliable wear of the cutting edge results in improved and more consistent tool life. Smoother surfaces also lower frictional forces, another factor that expands applications and permits higher cutting speeds.
Additionally, all Beyond inserts are top- and bottom-ground after coating for a better seating surface in the toolholder, which improves security.
New Beyond KCPM20 inserts are available in a variety of Kennametal milling cutter styles, including:
Dodeka for face milling in stable applications KSOM, where lighter cutting forces are required
Mill 1 for high-performance shoulder milling
KDM for general-purpose and die/mold machining
"While optimized for steels and stainless steels, KCPM20 also can act as a troubleshooter in cast iron applications, particularly with nodular irons in dry conditions," says Osny Fabricio, Kennametal Senior Product Manager. "Use KCPM20 when existing applications need to be optimized to gain additional tool life and productivity via higher speeds and feeds."