March 01,2011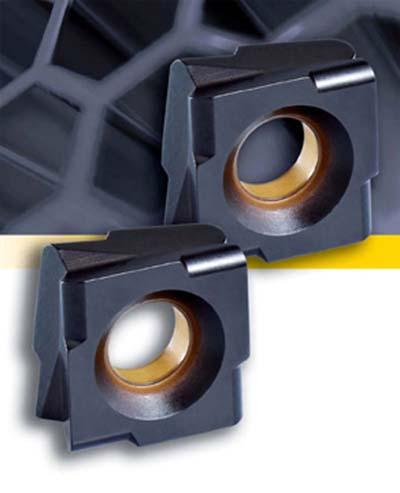 The innovative Beyond platform of high-performance tool grades from Kennametal Inc. has garnered exceptional reviews from customers worldwide for their long life and exceptional performance. Now Kennametal is introducing the first Beyond inserts for Kennametal's FixPerfect system, promising improved toughness and wear-resistance, resulting in higher turning productivity and safety.
The FixPerfect system features a proprietary shaped pocket that, together with a clamping stud, locking pin, and tangentially mounted precision ground insert, result in high clamping forces and very low cutting forces for excellent chip control and improved process stability. The FixPerfect inserts are shaped to match the pocket, which protects unused cutting edges. Productivity improves as well because the FixPerfect pin simply needs to be loosened, not removed, to index the insert.
The new Beyond inserts for FixPerfect share the performance characteristics of the entire Beyond line: micro-polished edges that improve edge toughness, proprietary post-coat treatment that reduces depth-of-cut notching, and a fine-grained alumina layer that enhances coating integrity at higher cutting speeds.
"There are five new Beyond grades for FixPerfect with either two, four, or eight cutting edges, depending on your application and needs," says Alexander Momm, global product manager, turning products. "With a variety of geometries, lead angles, and rake angles to choose from, metalworking companies can achieve improved chip control and process stability in roughing, medium machining, or finishing tasks, while adding the long tool life and increased performance Beyond provides."
Related Glossary Terms
metalworking


metalworking

Any manufacturing process in which metal is processed or machined such that the workpiece is given a new shape. Broadly defined, the term includes processes such as design and layout, heat-treating, material handling and inspection.

rake


rake

Angle of inclination between the face of the cutting tool and the workpiece. If the face of the tool lies in a plane through the axis of the workpiece, the tool is said to have a neutral, or zero, rake. If the inclination of the tool face makes the cutting edge more acute than when the rake angle is zero, the rake is positive. If the inclination of the tool face makes the cutting edge less acute or more blunt than when the rake angle is zero, the rake is negative.

turning


turning

Workpiece is held in a chuck, mounted on a face plate or secured between centers and rotated while a cutting tool, normally a single-point tool, is fed into it along its periphery or across its end or face. Takes the form of straight turning (cutting along the periphery of the workpiece); taper turning (creating a taper); step turning (turning different-size diameters on the same work); chamfering (beveling an edge or shoulder); facing (cutting on an end); turning threads (usually external but can be internal); roughing (high-volume metal removal); and finishing (final light cuts). Performed on lathes, turning centers, chucking machines, automatic screw machines and similar machines.