May 01, 2015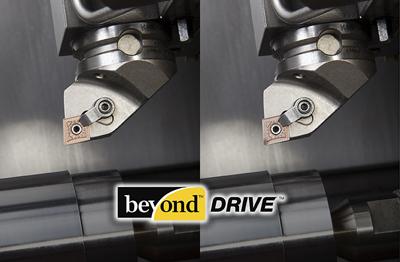 Beyond Drive from Kennametal comes in a range of grades and geometries. All feature a bronze TiOCN top coating that increases wear resistance and is an effective wear indicator.
With significantly longer tool life and improved edge utilization in field tests, Kennametal's newly launched Beyond Drive portfolio of cutting inserts are being called the new gold standard for turning. Adding a new titanium oxy-carbonitride outer coating (TiOCN) not only increases wear- and abrasion-resistance for lower temperatures and longer tool life, its bronze color is an effective wear indicator as opposed to black-surfaced inserts. Where inserts had been thrown away early in favor of safety because of poor wear identification, operators are now reporting notably longer service life per edge, even in aggressive environments. Depending on the application, field tests are showing up to 30 percent more parts per edge.
Beyond Drive is an entire portfolio of new grades and geometries that emphasize ease of selection and use across work materials and turning conditions. Specific customer demands addressed by Beyond Drive include reduction of notch wear in demanding applications and reduction of crater wear in difficult materials, all while improving wear identification.
Beyond Drive is specifically designed for leveraging improved performance and longer life in many critical turning tasks across steels, stainless steels, cast irons, and high-temperature alloys. By cutting costs, avoiding waste, and producing many more higher-quality parts per cutting edge, manufacturers in transportation, energy, general engineering, and more are taking a significant leap forward in productivity and increased capacity.
For example, the Beyond Drive MR (medium roughing) insert has a high positive rake angle that works with the smoothly curved cutting edge to reduce cutting forces and extend tool life. In terms of chip flow, it's like nothing ever seen before, says Kennametal turning expert Lothar Unglaub.
Indexable double sided inserts are subject to high cutting forces, and are commonly seen as less stable. MR's rake profile without the points of load concentration results in an extremely stable insert body, despite the high positive rake. Even with high depth-of-cut applications, turning processes are safer and more stable, ensuring lower load on the machine tool and workpiece. Additionally, MR inserts also feature formed-in coolant channels that deliver flood coolant efficiently to the cutting edge. Improved heat control translates into smoother cutting and extended tool life.
Adding the benefit of increased stability to Beyond Drive's design and performance advantages is Kennametal's KM4X spindle connection. Sizing the right spindle connection with the right machine tool helps optimize the productivity of the entire system. The combination of the KM4X system's high clamping force and interference level leads to a robust connection and extremely high stiffness and bending capacity for greatly improved performance. KM4X overcomes the limitation on bending capacity present in other connections, allowing maximum available spindle power and torque to be utilized in critical operations like turning of high-strength materials.
In short, the KM4X connection is capable of performing right up to the machine tool's full potential, which drives the most out of the cutting edge, Combined with the latest Beyond Drive portfolio, turning can be far more productive and cost-effective
Another advantage is running dry, where Beyond Drive performs very well. Coolants can cost a lot of money and add processing and disposal concerns. Even in very aggressive turning environments involving external scale or heavy, interrupted cuts, Beyond Drive is showing increased performance.
For example, in one test for a plant producing cast-iron transmission components, with no change in feed, spindle speed, or depth of cut, Beyond Drive completed 325 pieces per cutting edge compared to 200 pieces for the plant's current inserts. Not only was this a phenomenal increase in parts per edge, projected machine hours freed per year totaled 125 while the number of inserts required per year dropped from 813 to 500.
A stronger supply chain that gets more parts to market reliably is the foundation of a healthy and growing manufacturing industry. Beyond Drive is a truly exciting development that promises more higher-quality parts per shift, more efficient machine utilization, and longer tool life.
Additional Products from Kennametal Inc.