February 22, 2022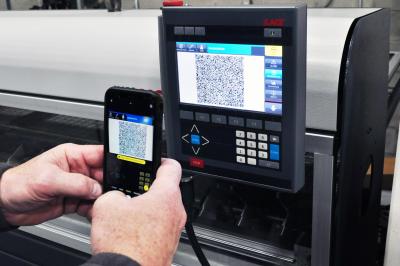 LNS North America introduces an advanced control for LNS bar feeders beginning with the Quick Load Servo S3 T automatic bar feeder for spindle length bars machined on fixed or sliding headstock turning machines. When equipped with the new control, the bar feeder will be designated Quick Load Servo S3+. The control will be added to other LNS bar feeders in the coming months.
Among the new control functions are:
Enhanced serviceability through the new QR code technology that instantly lists diagnostic data and automatically populates an email to be sent to an LNS Customer Service Representative.
Enables monitoring of interface signals via a diagnostic timing chart.
Makes troubleshooting faster and easier by using diagnostics to access codes that quickly identify inconsistencies.
Improved planning capabilities through Forecasting Tool that helps facilitate lights-out production
This new control enhances the user-friendliness of the Quick Load Servo S3+, a bar feeder that is well suited for unattended and lights-out production thanks to its proven robustness and reliability. Accommodating spindle length bars with diameters from ¼" to 4 – ¾", the bar feeder enables partial changeovers in 15 seconds or less and complete changeovers in 1 minute or less. A unique Parts Library function stores hundreds of part programs that simplify operator setups.
Related Glossary Terms
turning


turning

Workpiece is held in a chuck, mounted on a face plate or secured between centers and rotated while a cutting tool, normally a single-point tool, is fed into it along its periphery or across its end or face. Takes the form of straight turning (cutting along the periphery of the workpiece); taper turning (creating a taper); step turning (turning different-size diameters on the same work); chamfering (beveling an edge or shoulder); facing (cutting on an end); turning threads (usually external but can be internal); roughing (high-volume metal removal); and finishing (final light cuts). Performed on lathes, turning centers, chucking machines, automatic screw machines and similar machines.