May 02, 2019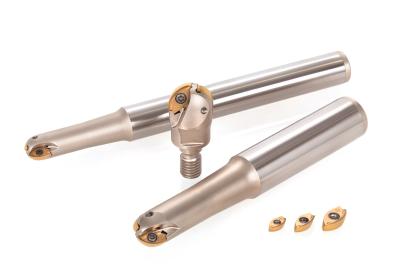 BallRoughNose is the latest development in Tungaloy's indexable milling technology for efficient and reliable rough profiling of curved surfaces.
This new line of indexable ball nose endmills is designed to provide maximum tool reliability during roughing and semifinishing processes. Its dovetail insert clamping design prevents the insert from being lifted by cutting forces during demanding operations; while unwanted insert rotation during machining is restrained by the unique locking design provided in the insert seat, assuring the indexing accuracy. These features boost BallRoughNose's insert reliability during 3D profiling or plunging processes, while the insert's helical cutting edge helps mitigate heavy cutting forces, promoting light cutting action.
The insert's unique hybrid design allows one side of the insert to be used for center cutting and the other side for the peripheral. This eliminates the need to purchase two different types of inserts, reducing tool investment and inventory costs and simplifying management. The insert seat interface is designed to ensure the insert only fits a matching orientation. The tool bodies are all equipped with through-coolant channels for effective chip evacuation, preventing chips from being re-cut during complex profiling of die and mold parts. The tool shanks are available for working diameters of ø16 mm (0.625"), ø20 mm (0.75"), and ø25 mm (1") in an array of shank designs including cylindrical shanks with standard length or with long-necks and modular styles.
Product at a Glance:
Maximum insert reliability thanks to anti-lift and anti-rotation design of the insert seat interface
Helical cutting edge reduces impact and cutting force at the entry of the cut
Hybrid insert design allows the same insert to be used for either center cutting or periphery, reducing tool investment and management costs
Additional Products from Tungaloy America Inc.