September 23, 2020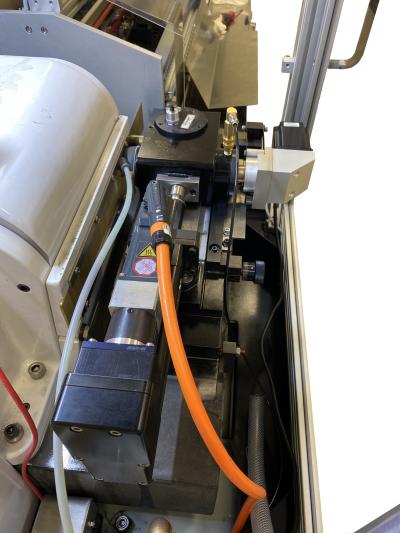 Dressing the work wheel is an essential process to maintain a true wheel face. It ensures a smooth, consistent grind, improves machine efficiency, and minimizes scrap rates.
Glebar's automatic dresser is available with manual or motorized quill advancement. With motorized quill advancement, it is possible to have a canned dress cycle. Operators can preprogram the frequency of the dress to run after a set number of cycles or time. This allows them to run multiple machines at once increasing their efficiency. "Operators can initiate the automatic dressing cycle from the HMI leaving them free to perform other tasks," explained Mark Scanel, VP and GM of Glebar Customer Care.
In addition, operators can control the traverse rate producing a more controllable and predictable wheel dress in both the regulating wheel and work wheel. Having greater control improves the surface quality of the part being ground reducing scrap rates and increasing output.
The automatic dresser is available on Glebar's TF-9DHD Micro Grinder and all GT-610 Infeed/Thrufeed Centerless Grinding Machines.
Related Glossary Terms
centerless grinding


centerless grinding

Grinding operation in which the workpiece rests on a knife-edge support, rotates through contact with a regulating or feed wheel and is ground by a grinding wheel. This method allows grinding long, thin parts without steady rests; also lessens taper problems. Opposite of cylindrical grinding. See cylindrical grinding; grinding.

dressing


dressing

Removal of undesirable materials from "loaded" grinding wheels using a single- or multi-point diamond or other tool. The process also exposes unused, sharp abrasive points. See loading; truing.

grinding


grinding

Machining operation in which material is removed from the workpiece by a powered abrasive wheel, stone, belt, paste, sheet, compound, slurry, etc. Takes various forms: surface grinding (creates flat and/or squared surfaces); cylindrical grinding (for external cylindrical and tapered shapes, fillets, undercuts, etc.); centerless grinding; chamfering; thread and form grinding; tool and cutter grinding; offhand grinding; lapping and polishing (grinding with extremely fine grits to create ultrasmooth surfaces); honing; and disc grinding.