July 01, 2014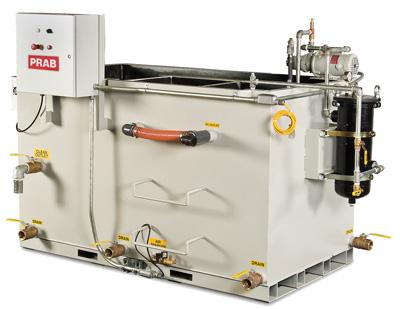 PRAB Inc. introduces an exclusive new feature for monitoring and controlling coolant concentration in its Guardian Coolant Recycling System. The AC3 (Automatic Coolant Concentration Control), continually monitors coolant concentration levels and adjusts automatically to maintain programmed ratios within +/-0.5 percent accuracy. The system achieves this critical balance by taking continuous concentration measurements using an automatic refractometer. The readings are analyzed by a series of algorithms built into the exclusive software package. The intelligence automatically determines action; opening and closing valves, and turning on and off a pump delivery system.
"Industry has long sought an economical solution for automatic concentration control. We developed the AC3 for those customers seeking to improve the performance of their coolant chemicals, which in turn improves tool life and lowers operational costs," states Tim Hanna, Managing Director of PRAB Fluid Filtration Division.
The AC3 works exclusively in conjunction with the PRAB Guardian Central Coolant Recycling System. The Guardian uses a comprehensive coalescing filtration process, effectively removing mechanically dispersed tramp oils to 0.1 percent or less. The Guardian Coolant Recycling System has demonstrated a reduction in haul-away costs by 90 percent, and has lowered new coolant purchase up to 75 percent. Payback on equipment purchase is typically 6-9 months.
Related Glossary Terms
coolant


coolant

Fluid that reduces temperature buildup at the tool/workpiece interface during machining. Normally takes the form of a liquid such as soluble or chemical mixtures (semisynthetic, synthetic) but can be pressurized air or other gas. Because of water's ability to absorb great quantities of heat, it is widely used as a coolant and vehicle for various cutting compounds, with the water-to-compound ratio varying with the machining task. See cutting fluid; semisynthetic cutting fluid; soluble-oil cutting fluid; synthetic cutting fluid.

refractometer


refractometer

Optical instrument that measures the refractive index of a liquid, such as a water-diluted metalworking fluid mix. The refractive index can by used to determine the concentration of a fresh metalworking fluid mix.

turning


turning

Workpiece is held in a chuck, mounted on a face plate or secured between centers and rotated while a cutting tool, normally a single-point tool, is fed into it along its periphery or across its end or face. Takes the form of straight turning (cutting along the periphery of the workpiece); taper turning (creating a taper); step turning (turning different-size diameters on the same work); chamfering (beveling an edge or shoulder); facing (cutting on an end); turning threads (usually external but can be internal); roughing (high-volume metal removal); and finishing (final light cuts). Performed on lathes, turning centers, chucking machines, automatic screw machines and similar machines.