October 01, 2021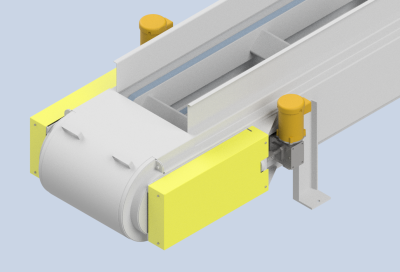 PRAB Inc., a worldwide leader in the design and manufacture of equipment and systems for processing metal scrap and spent fluids as well as treating industrial wastewater for recycle and reuse, is pleased to introduce the Auto-Take Up System, a conveyor enhancement that automatically tightens belts and eliminates the need for manual adjustments.
As the chains on conveyance systems get older, they stretch. This is one of the most common causes of premature belt wear and unplanned conveyor maintenance. A stretched chain can cause the belt to slip off of the sprocket and fold up under itself, leading to belt damage, stopped production, and costly downtime.
To prevent a belt failure, operators have traditionally performed manual belt adjustments, which require the machine to be shut off while an operator or technician crawls into the dirty pit underneath the press to check the belt's tension and tighten it with a wrench. This maintenance typically needs to be repeated twice a year.
To prevent these maintenance concerns, the PRAB Auto-Take Up automatically monitors tension using load cells on chain conveyors, including steel belt conveyors, drag conveyors, the PRAB ScrapVeyor™, and more. The system is wired to a PLC control panel, which monitors tension and automatically tightens the belt to eliminate manual adjustments and downtime. It can be added to new conveyors or retrofitted onto existing models. If retrofitted onto an existing conveyor, the system can be operated using that conveyor's original control panel. Automatic adjustments can be scheduled to be completed during low production times or shift changes.
"Manual belt tightening increases downtime for preventive maintenance and, if not addressed properly, risks a belt failure that can damage the conveyor," said Mike Hook, Sales and Marketing Director for PRAB. "The Auto-Take Up eliminates the need for manual belt adjustments for improved conveyor uptime."