March 22, 2016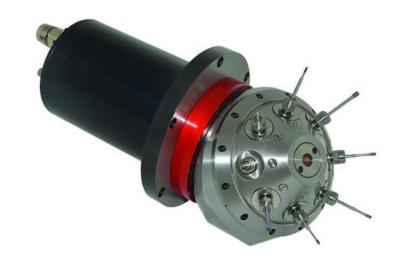 ITI Tooling Co. Inc.'s ATC series of Electro-spindles with a built-in multistation tool carrier have been developed specifically to gain the optimal performance on production machines and robots when multiple operations or redundant tooling is required.
With a durable construction and low-maintenance design, these high-performance spindle assemblies are available in six different frame sizes ranging from 6" to 17" in diameter, with speeds ranging from 14,000 to 80,000 rpm, power up to 40 hp and each with up to eight tools that link directly to the spindle bore via a precision HSK connection. All spindles utilize ultraprecision bearings that provide supreme accuracy and rigidity with no vibration or chatter and the unique sealing system ensures longevity even in the most demanding environments, according to the company.
These ATC series spindle units are available with either a flange or foot type mounting and can be used in any orientation, making the installation simple and easy.
Related Glossary Terms
chatter


chatter

Condition of vibration involving the machine, workpiece and cutting tool. Once this condition arises, it is often self-sustaining until the problem is corrected. Chatter can be identified when lines or grooves appear at regular intervals in the workpiece. These lines or grooves are caused by the teeth of the cutter as they vibrate in and out of the workpiece and their spacing depends on the frequency of vibration.