July 17, 2018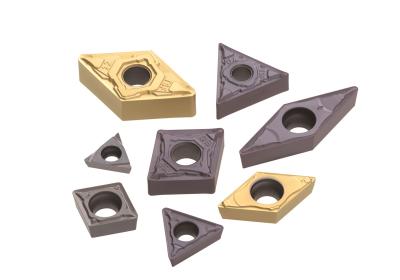 Tungaloy is introducing a coated cermet grade, AT9530 for steel turning applications. The new AT9530 grade incorporates Tungaloy's unique multi-layered coating technology and special post-surface treatment PremiumTec. This combination provides superior resistance to wear and fracture for improved productivity in finishing of steel during high speed machining.
The grade offers remarkable wear resistance particularly in alloy steel turning, thus making it the first choice grade for that material application range. This latest addition complements the existing NS9530 and GT9530 cermet grades to enhance their application ranges and productivity.
The new AT9530 grade is available with the –TSF and –PS style chipbreakers, the first choice chipbreakers for steel turning, in standard ISO turning inserts as well as ISO-EcoTurn inserts. A total of 111 items are introduced to cover a range of applications.
Grade at a glance:
Well-balanced wear and fracture resistance thanks to special multi-layered (Ti,Al)N based coating
PremiumTec special post-surface treatment technology for machining stability
Related Glossary Terms
turning


turning

Workpiece is held in a chuck, mounted on a face plate or secured between centers and rotated while a cutting tool, normally a single-point tool, is fed into it along its periphery or across its end or face. Takes the form of straight turning (cutting along the periphery of the workpiece); taper turning (creating a taper); step turning (turning different-size diameters on the same work); chamfering (beveling an edge or shoulder); facing (cutting on an end); turning threads (usually external but can be internal); roughing (high-volume metal removal); and finishing (final light cuts). Performed on lathes, turning centers, chucking machines, automatic screw machines and similar machines.

wear resistance


wear resistance

Ability of the tool to withstand stresses that cause it to wear during cutting; an attribute linked to alloy composition, base material, thermal conditions, type of tooling and operation and other variables.
Additional Products from Tungaloy America Inc.