July 01, 2015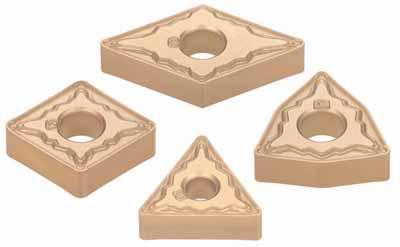 Tungaloy Corp. introduces the AM chipbreaker that increases efficiency in medium cutting of steel.
In today's metalworking industry, manufacturers are looking to improve their productivity. Increased speed and feed rates are usually the solutions to this demand. However, this also increases the cutting force on the inserts and generates excessive crater wear (wear on the rake face). This leads to sudden fracture and poor chip control due to wear on the chipbreaker.
The new AM chipbreaker features a "Lift-Ridge" shape. This latest innovation by Tungaloy minimizes the contact area between the chip and the rake surface, reduces the heat generated by chip abrasion, and prevents crater wear from developing, according to the company. The inclination on the cutting edge decreases cutting force even in machining at high speeds and feeds. In addition, optimized chipbreaker width and geometry deliver stable chip control.
The AM chipbreaker is reportedly an excellent choice for steel turning where productivity is to be improved by allowing customers to increase their process speeds and feeds.
Additional Products from Tungaloy America Inc.