February 18, 2016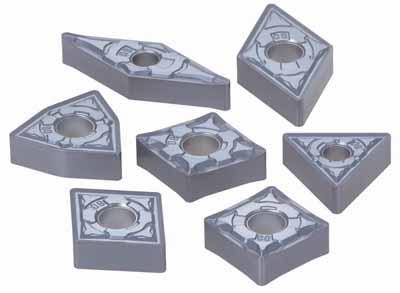 Tungaloy Corp. has introduced the AH8000 series of PVD grades and chipbreakers for turning heat resistant alloys.
The new PVD grades feature impressive resistance to both wear and fracture due to the world's first nano-multi-layered AlTiN coating with high Al content and dramatically reduces notch wear, crater wear and built-up edge in machining heat resistant alloys. The two AH8000 grades include AH8015, the first choice grade with well-balanced wear and fracture resistance; AH8005, the high hardness grade with excellent wear resistance. These two new grades are treated with PremiumTec, Tungaloy's special surface technology, which adds a highly polished cutting surface for extra stability and long tool life.
The new chipbreakers, HRF and HRM, cover a wide range of applications from finishing to medium cutting. The HRF chipbreaker for finishing provides low cutting force due to the large rake angle and inclination on the cutting edge, delivering excellent chip control particularly when machining in low depth-of-cut ranges. The HRM chipbreaker for finishing to medium cutting features a protrusion on the rake surface. This protrusion minimizes the swarf from contacting the rake surface and dramatically decreases built-up edge.
These new grades and chipbreakers in the AH8000 series offer outstanding cutting performance in various turning operations from finishing to medium cutting of heat resistant alloys, resulting in a remarkable increase in customer productivity.