December 09, 2022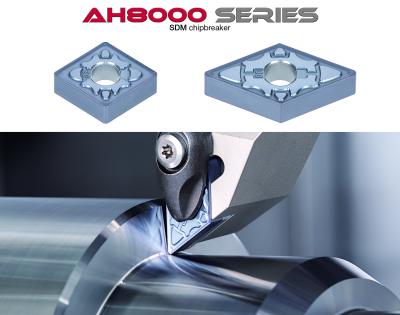 Tungaloy has expanded its AH8000 PVD-coated grade series of ISO turning inserts to include 14 new negative inserts with SDM chipbreaker.
PVD-coated insert grade series AH8000 provides proven performance in turning operations of heat resistant superalloys, which is made possible by nano-multi-layered AlTiN coating with high Al content and enhanced coating substrate adhesion. The series offers two grades: first-choice grade AH8015 is suitable from medium to finish cutting for a wide range of machining conditions; while AH8005 provides the insert with exceptional wear resistance that enables long and predictable tool life in high-speed continuous cutting operations.
SDM chipbreaker features unique T-land with variable widths and optimized rake angle that provide the insert with resistance against notch wear. Difficult metals like HRSAs are prone to cause notch wear on the insert cutting edge that can severely deteriorate insert tool life. A combination of SDM geometry and the AH8000 grade series will substantially extend tool life and provide superior predictability.
Complementing existing HRF chipbreaker for finish operations and HRM for finish to medium cutting operations, SDM further expands the application coverage of the AH8000 series, as well as contributes to customers' machining cost reductions.