June 06, 2016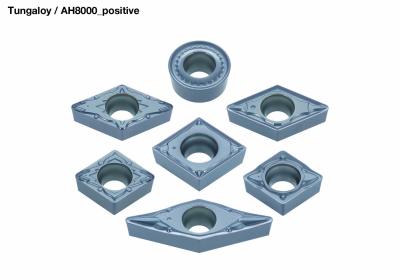 Tungaloy Corp. announced an expansion of the AH8000 series for heat-resistant alloy turning. This expansion adds a new positive insert line to the product family.
The new PVD grade, AH8000 series, was engineered specifically for turning heat-resistant alloys. Using a nano-multilayered AlTiN coating with high Al content, the new grade reduces notch wear, crater wear and built-up edge in machining heat-resistant alloys. The two grades include AH8015, the first choice for well-balanced wear and fracture resistance; and AH8005, with high hardness for strong wear resistance. These two grades are treated with PremiumTec: Tungaloy's special surface treatment technology, which adds a highly polished cutting surface for extra stability and longer tool life.
With this new addition of a positive insert line, the AH8000 series now covers a wider application range in heat-resistant alloy turning, and in combination with the existing negative insert line, provide customers with a drastic increase in productivity.
Additional Products from Tungaloy America Inc.