April 27, 2016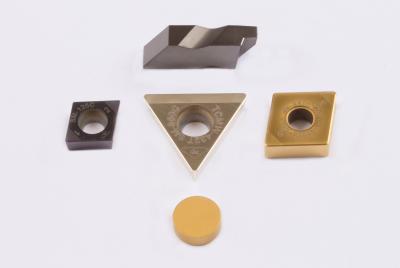 Shape-Master Tool Co. has developed new combinations of PCBN grades and tool coatings for hard turning applications. The coatings are applied specific to each application. Manufacturers have experienced improved cutting performance and tool life.
Through the application of custom edge preparations, PCBN grade selection and tool coatings, some shops experienced up to double the uncoated tool life.
Related Glossary Terms
hard turning


hard turning

Single-point cutting of a workpiece that has a hardness value higher than 45 HRC.

polycrystalline cubic boron nitride ( PCBN)


polycrystalline cubic boron nitride ( PCBN)

Cutting tool material consisting of polycrystalline cubic boron nitride with a metallic or ceramic binder. PCBN is available either as a tip brazed to a carbide insert carrier or as a solid insert. Primarily used for cutting hardened ferrous alloys.

turning


turning

Workpiece is held in a chuck, mounted on a face plate or secured between centers and rotated while a cutting tool, normally a single-point tool, is fed into it along its periphery or across its end or face. Takes the form of straight turning (cutting along the periphery of the workpiece); taper turning (creating a taper); step turning (turning different-size diameters on the same work); chamfering (beveling an edge or shoulder); facing (cutting on an end); turning threads (usually external but can be internal); roughing (high-volume metal removal); and finishing (final light cuts). Performed on lathes, turning centers, chucking machines, automatic screw machines and similar machines.