January 27, 2021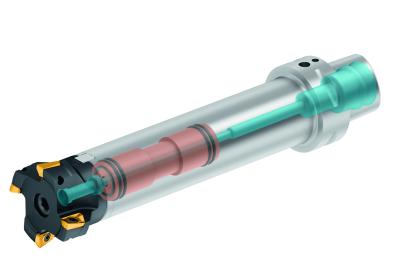 Walter has introduced the Accure·tec AC001 vibration damping adaptor especially for shell mill mount milling cutters. It delivers increased productivity and stability along with greater surface quality, improved tool and spindle life and is ideal for deep pocket milling in operations at depths of up to 4 x D.
The vibration damping for this patented system is provided by the axially and radially flexible positioned damper element which is preset at the factory so tools can be used immediately without time-wasting fine tuning. These Accure·tec adaptors are ideally suited for the Walter Xtra·Tec® XT milling cutter range. This makes the system highly versatile. For example, for components with deep cavities in aircraft construction and aerospace industry in general, as well as the automotive, energy, die/mold, and general metalworking industries. Users can benefit from both the vibration damping and a system with low noise levels.
Accure·tec delivers its advantages of longer tool life, higher productivity, and greater process reliability at depths of cut up to three
times that obtained with conventional methods. Internal coolant further optimizes chip removal. Walter offers Accure·tec with all popular machine interfaces: Walter Capto™, HSK/HSK-T, ISO, MAS-BT, CAT and parallel shank.
In addition, Walter has announced new sizes to its existing Accure∙tec A3000 boring bar line that incorporates the same technology as the AC001 vibration free long milling tool adaptor. The A3000 is now available in 1.00 in. and 25 mm diameters in steel, as well as 1.00 in. and 1.25 in. diameters in carbide at 10 x Dc. The product extension also includes Capto C4, C5 connections in 25 mm diameter along with HSK-T63 connections in 25, 32, 40, 50 mm diameters.