October 06, 2017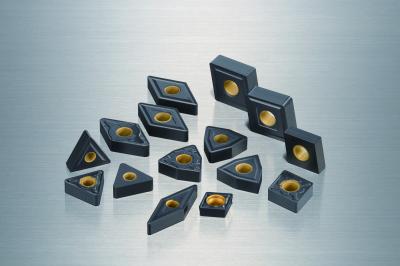 New from Sumitomo Electric Carbide Inc., AC4010K and AC4015K series turning grades for cast iron feature recently developed technologies that result in a long and stable tool life. Consisting of a smooth cutting edge treatment, the AC4000K series' use of high adhesion technology drastically improves peeling resistance, according to the company. In addition, crystal orientation control technology provides double the wear resistance during high-speed machining compared with conventional products. The residual stress control technology of the AC4000K series further contributes to wear resistance.

Recommended for the precision cutting of gray cast iron, the extra-thick coating of the AC4010K grade allows for ultrahigh-speed machining (vc = 2,300 sfm). Its special surface treatment provides more than twice the compressive stress and 2 times the chipping resistance compared with conventional products.
The range of applications for the AC4010K grade includes cast iron brake discs and flywheels and ductile iron gear cases. Chipbreaker selection includes the EGU for low rigidity work, the ENZ for general finishing, the EGZ for extra cutting edge strength and the EME for strong and sharp high-feed cutting.