May 13, 2016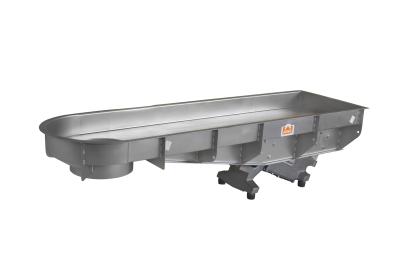 In 2013 Eriez introduced the supersized 76 series vibratory feeder to satisfy customers' largest application demands while enabling increased overhang. "Over the past 3 years, the 76 series vibratory feeder has demonstrated success in operations across various and diverse industries," says Rob Yandrick, product manager-vibratory. "The 76 has become a popular choice to use with bucket elevators as well as bulk bag unloading, scale feeding and other challenging applications."
The 76 series vibratory feeder--the largest model in the company's extensive line up of vibratory feeders--supports trays up to approximately 200 lbs. and is offered in most common voltages. It provides all of the same great features and benefits customers have come to expect from existing models.
Eriez worked with customers and utilized its more than 50 years of experience manufacturing vibratory feeders to develop the 76 series vibratory feeder. In designing this powerful and unique feeder, the company says it filled a void in the marketplace by providing a feeding solution for applications where trays are often too heavy for smaller models and using multiple drives is not practical.
Large bucket elevators require high capacity feeders with long tray overhangs to reach the in-feed section of the elevators, making the 76 series vibratory feeder an ideal choice. With its ability to easily handle larger trays with multiple features such as screens, covers, inlet spouts and downspouts with a single compact drive unit required by bulk bag dischargers, the 76 is also well suited for bulk bag unloading. For scale feeding, which requires wider, longer trays to reach to the center of radial combination scales, the 76 offers superb performance.
"These are just a few examples of the most common applications," says Yandrick. "Many operations can benefit from these innovative high capacity feeders with their larger trays with multiple options and longer overhang.