January 12,2018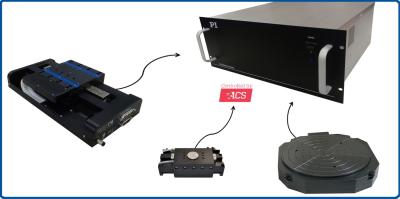 PI (Physik Instrumente) LP has released a new high-performance motion controller designed to handle 4, 6 or 8 axes of PIglide air bearing positioning stages and precision automation sub-systems. Air bearings provide many advantages compared to mechanical bearings, such as no-particle generation, frictionless, vibration-free motion, highly constant velocity control, nanometer-precision repeatability and optimal geometric performance.
The A-82x controller family integrates closed-loop digital servo control, drivers, and power supply in one convenient rack mount design. Depending on the number of axes, total output power of 1100W to 2000W with peak power to 3900W is provided.
A-82x controllers can be operated in stand-alone mode running on stored programs in the integrated flash memory in addition to control via an external computer.
High resolution incremental encoders with sine/cosine output and absolute encoders based on BiSS-C protocol are supported. The multi-axis controllers are based on ACS hardware, a global motion control leader which became part of the PI Ggroup in 2017. The new controllers also feature ACS ServoBoost, which provides better, more consistent and stable servo performance that is insensitive to noise or changes in the system. The PI Group also offers standard and custom motion systems and controls for precision automation applications.
Designed to float on a cushion of air without rollers or sliding components, air bearing positioners deliver extremely precise and vibration-free motion, with excellent velocity stability, and zero wear of mechanical components, which are ideal for high-end industrial inspection and manufacturing operations.
Applications include high-precision operations, such as metrology, photonics alignment, semiconductor, wafer inspection, laser marketing, flat panel display, precision scanning applications and cleanroom applications.
Related Glossary Terms
flash


flash

Thin web or film of metal on a casting that occurs at die partings and around air vents and movable cores. This excess metal is due to necessary working and operating clearances in a die. Flash also is the excess material squeezed out of the cavity as a compression mold closes or as pressure is applied to the cavity.

flat ( screw flat)


flat ( screw flat)

Flat surface machined into the shank of a cutting tool for enhanced holding of the tool.

metrology


metrology

Science of measurement; the principles on which precision machining, quality control and inspection are based. See precision machining, measurement.