April 05, 2022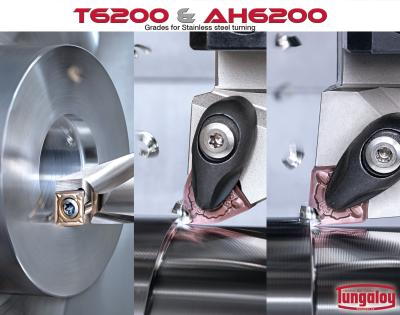 Tungaloy has announced the addition of 348 new inserts to its stainless steel turning grade series of AH6225, AH6235, and T6215. The addition will further enhance these proven insert grade series to guarantee stable machining performance across all stainless steel operations.
AH6225 is a first-choice grade designed to provide excellent machining performance in general stainless steel turning operations, extending from continuous to light interrupted cuts. A thick titanium-rich PVD coating with high thermal stability, combined with a dedicated carbide substrate that ensures better resistance to both fracture and plastic deformation, provides long and predictable tool life.
AH6235 is another PVD-coated grade that boasts exceptional fracture resistance. The grade provides outstanding reliability during interrupted cuts and heavy-duty turning applications with great depth of cut. Its thick thermally-stable coating provides superior cutting performance even when machining materials with poor machinability.
T6215 is a latest CVD-coated grade, designed to ensure superior cutting performance during high speed, continuous cuts of stainless steel. Incorporating a thickness of 1.3 times as thick as existing grades and extremely hard outer layer, the CVD coating offers extraordinary resistance to wear during high speed machining.
Additional Products from Tungaloy America Inc.