March 13, 2013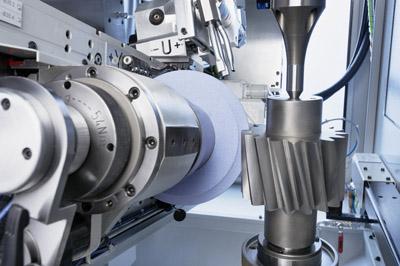 Gleason Corp. announced the availability of a Profile Grinding option for its 300TWG Threaded Wheel Grinding Machine.
Gleason says its 300TWG has been the ideal machine for customers who demand the high levels of productivity and flexibility provided by the threaded wheel grinding process, especially for medium to large size batch production. Now with the addition of a profile grinding option, the machine is also well-suited to smaller batch and high-precision production. The combination of the two processes covers the full range of production possibilities.
Dr. Antoine Tuerich, Director of Product Management — Profile and Threaded Wheel Grinding Solutions remarked, "With the integration of the new dressable profile grinding option, the already successful 300TWG Threaded Wheel Grinding Machine becomes more flexible than ever before, allowing the configuration of this machine to meet nearly any customer requirement. Depending on the customer's application, it may be used either as a threaded wheel or a profile grinding machine. User-friendly, graphically supported software simplifies the process, yet offers a high degree of sophistication and control."
Related Glossary Terms
grinding


grinding

Machining operation in which material is removed from the workpiece by a powered abrasive wheel, stone, belt, paste, sheet, compound, slurry, etc. Takes various forms: surface grinding (creates flat and/or squared surfaces); cylindrical grinding (for external cylindrical and tapered shapes, fillets, undercuts, etc.); centerless grinding; chamfering; thread and form grinding; tool and cutter grinding; offhand grinding; lapping and polishing (grinding with extremely fine grits to create ultrasmooth surfaces); honing; and disc grinding.

grinding machine


grinding machine

Powers a grinding wheel or other abrasive tool for the purpose of removing metal and finishing workpieces to close tolerances. Provides smooth, square, parallel and accurate workpiece surfaces. When ultrasmooth surfaces and finishes on the order of microns are required, lapping and honing machines (precision grinders that run abrasives with extremely fine, uniform grits) are used. In its "finishing" role, the grinder is perhaps the most widely used machine tool. Various styles are available: bench and pedestal grinders for sharpening lathe bits and drills; surface grinders for producing square, parallel, smooth and accurate parts; cylindrical and centerless grinders; center-hole grinders; form grinders; facemill and endmill grinders; gear-cutting grinders; jig grinders; abrasive belt (backstand, swing-frame, belt-roll) grinders; tool and cutter grinders for sharpening and resharpening cutting tools; carbide grinders; hand-held die grinders; and abrasive cutoff saws.