April 27, 2016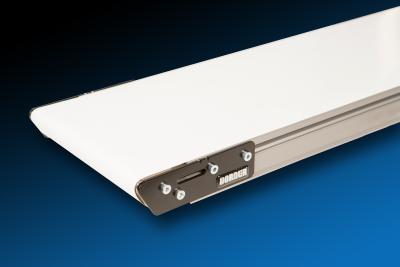 A high-speed nose bar transfer option, redesigned frame, additional belting and expanded guiding are part of Dorner's newly redesigned 2200 series low-profile belt conveyors.
The 2200 Series features a strong, single-piece frame design that reduces the overall number of needed stands. The frame comes with a universal T-slot that is compatible with industry standard hardware and makes attaching accessories and guiding fast and simple.
Additionally, a 5/8" nose bar transfer option with V-guided belt tracking safely transfers parts at speeds of up to 200 feet per minute for increased productivity. New tool-less fully adjustable guiding provides customers with added flexibility to further customize their conveyors to best fit their needs. Other improvements to the 2200 series include new belting options and additional conveyor widths.
Dorner's 2200 series end drive conveyors can be equipped with the company's Universal Drive, which provides flexibility in design layout and simplifies spare part management with a single part number that covers all speeds, loads and mounting position.
Features of the newly redesigned 2200 series conveyors include:
Widths from 1.75" to 24"; lengths from 18" to 24'
Load capacity up to 120 pounds; belt speeds up to 400 feet per minute
Precise rack and pinion belt tensioning allows for fast and simple tensioning
Sealed for life bearings reduces maintenance
Engineered for applications involving small to medium part handling; transfers; accumulation, automated and manual assembly
Dorner's 2200 series conveyors can be configured in Dorner's Online Configurator, DTools. Users can engineer a complete conveyor and download a complete 3D CAD assembly model for instant validation of fit. Dorner builds its 2200 series conveyors made to exact customer specifications and ship within three business days.