June 06, 2016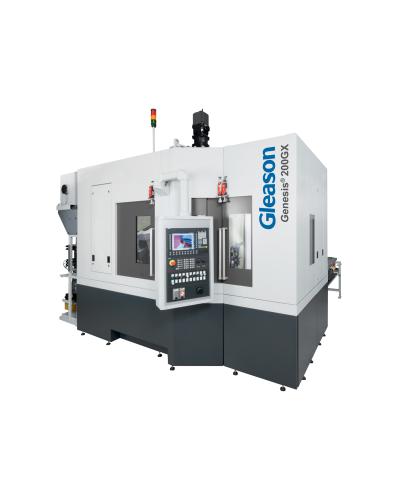 Gleason Corp. introduces the 200GX and 260GX threaded wheel grinding machines, its latest addition to the Genesis series. The twin-spindle concept combines maximum productivity with minimum idle and setup times. Fast, easy software-guided setup of the machine allows users to set up the GX series from one workpiece to another in 20 minutes using a single tool.
"First Part Cycle" features a fully automatic workflow from setup to grinding the first workpiece. In addition, the machine is equipped with latest innovative technology features such as: Twist controlled grinding, automated process data proposal, variable rate method (VRM) for a favorable surface structure and polish grinding for an excellent surface finish. The ability to directly interface with Gleason GMS Analytical Gear Inspection machines via simple scanning of QR codes further enhances the productivity of the GX series. In addition, the GX series productivity is further enhanced when paired with automation solutions from Gleason Automation Systems.
Easily accessible machine components make maintenance simple and efficient while standard dimension grinding wheels allow use of existing tools along with precision dressing tools from Gleason.
Related Glossary Terms
dressing


dressing

Removal of undesirable materials from "loaded" grinding wheels using a single- or multi-point diamond or other tool. The process also exposes unused, sharp abrasive points. See loading; truing.

grinding


grinding

Machining operation in which material is removed from the workpiece by a powered abrasive wheel, stone, belt, paste, sheet, compound, slurry, etc. Takes various forms: surface grinding (creates flat and/or squared surfaces); cylindrical grinding (for external cylindrical and tapered shapes, fillets, undercuts, etc.); centerless grinding; chamfering; thread and form grinding; tool and cutter grinding; offhand grinding; lapping and polishing (grinding with extremely fine grits to create ultrasmooth surfaces); honing; and disc grinding.