May 08, 2017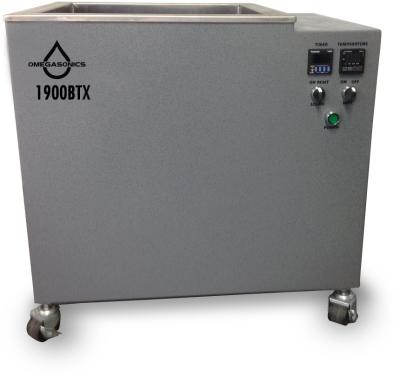 Omegasonics has introduced a new cleaning unit, the 1900BTX, that features two cleaning technologies, a water agitation cleaning process and ultrasonic cavitation. Each operates independently to facilitate a more thorough, yet gentle, cleaning process. The unit is especially effective for cleaning 3D prototype parts.
The 1900BTX is an enhancement to Omegasonics' 1900BT, a 20-gallon, plug-and-play unit that is a hybrid between traditional bench top cleaners and portable floor models. The addition of the magnetic drive pump system in the new 1900BTX model allows for agitation, similar to a jacuzzi, whereby the turbulence is controlled so parts are not damaged. Inside the tank, the part flows circularly, which helps dissolve the temporary support structure around the part. The flow and heat are both adjustable because different materials require different pressures and temperatures. In addition, the water agitation tank features a directional spray nozzle that lets the user spray parts directly and precisely.
The ultrasonic cleaning process, in turn, generates cavitation energy inside the bath, which creates its own internal pressure that dissolves the support structure for the parts. It utilizes a non-hazmat cleaning detergent that speeds up the process of removing delicate support material.
"By using both agitation and ultrasonic cleaning methodologies, 1900BTX users get the best of both worlds," said Joe Gilbert, vice president of sales at Omegasonics. "3D prototype parts are cleaned more thoroughly and more quickly with less manpower. It's a win-win, especially for 3D prototype part applications."
Related Glossary Terms
ultrasonic cleaning


ultrasonic cleaning

Method of cleaning metal or plastic parts by immersing them in an aqueous or solvent-based cleaning solution and imposing ultrasound energy on the bath to enhance cleaning by creating cavitation conditions at the part surface, which imparts a strong scouring action to remove tenacious soils.