November 01, 2014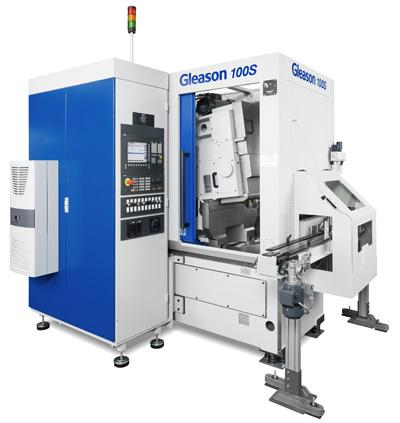 Gleason Corp. announces the introduction of the 100S gear shaping machine, featuring a stroke rate of up to 3,000 strokes per minute. The 100S is ideally suited to small face widths gears, including spur and helical gears, both internal and external, as well as automotive synchro rings and tapered gears, according to the company. It is a compact and robust machine requiring significantly reduced floor space. The 100S is easily moved, quickly installed and powered up.
Some of the significant features of the 100S include:
• High productivity, with stroke rates up to 3,000 strokes per minute.
• Static and dynamically stiff machine concept, aided by a twin-bearing crankshaft design.
• Offered with standard dry machining cycle; optional wet machining is available.
• Optional automatic adjustment of stroke position after re-sharpening of the shaper cutting tool.
• Fast, tool-less setup.
• Fast clamping and unclamping system HSK 63 for high repeatability, and manual activation for minimized weight.
• Extremely short chip-to-chip times with cam driven loader that drastically reduces workpiece change times.
Related Glossary Terms
computer-aided manufacturing ( CAM)


computer-aided manufacturing ( CAM)

Use of computers to control machining and manufacturing processes.

shaping


shaping

Using a shaper primarily to produce flat surfaces in horizontal, vertical or angular planes. It can also include the machining of curved surfaces, helixes, serrations and special work involving odd and irregular shapes. Often used for prototype or short-run manufacturing to eliminate the need for expensive special tooling or processes.

slotting machine ( shaper)


slotting machine ( shaper)

Vertical or horizontal machine that accommodates single-point, reciprocating cutting tools to shape or slot a workpiece. Normally used for special (unusual/intricate shapes), low-volume runs typically performed by broaching or milling machines. See broaching machine; mill, milling machine.