Published
December 20, 2018 - 02:00pm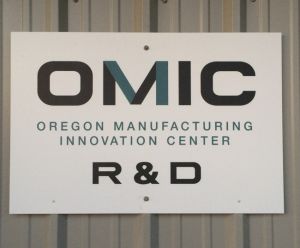 The Oregon Manufacturing Innovation Center (OMIC) Research & Development facility was created in 2017, thanks to the tireless efforts of a number of initial OMIC industry partners, as well as state Senator Betsy Johnson. Between the 2016 and 2017 Legislative Sessions, OMIC R&D has received a total of $21.5 million in state funding. In addition to state funding OMIC R&D receives money from dues from its members.
The Oregon Manufacturing Innovation Center (OMIC) R&D facility's presence is growing in Scappoose.
The stated mission of OMIC: "Develop and apply advanced metals manufacturing technologies and processes for industrial competitive advantage and academic growth, while inspiring and educating the next generation's manufacturing workforce."
OMIC R&D is a collaborative environment bringing together industry, higher education and government in partnership to develop new tools, techniques, and technologies to address near-term manufacturing challenges through applied research and advanced technical training. OMIC R&D is modeled after the University of Sheffield Advanced Manufacturing Research Center (AMRC), founded by Sir Adrian Allen, with Boeing in Sheffield, England.
OMIC R&D is overseen by a Board of Governors made up of industry and higher education members. Operations are overseen by its host, the Oregon Institute of Technology (Oregon Tech), a public polytechnic university, which is also the building owner and landlord. OMIC R&D is managed by Executive Director Craig Campbell, who began with OMIC on May 1.
Dr. Nagi Naganathan, president of the Oregon Institute of Technology ("Oregon Tech") which serves as the host for OMIC R&D noted that "Craig's relationships with the legislature, his legal foundation and his experience with other agencies and associations will serve OMIC well as we continue to develop mutually beneficial relationships. We look forward to working with Craig to advance the mission of this innovative enterprise."
Oregon will be Home to the only R&D Center of it's Kind in the United States
Campbell said OMIC R&D provides "an unprecedented opportunity to accelerate the growth of manufacturing research in Oregon, the region and beyond. I am very excited to have the opportunity to work with such impressive representatives of industry, government and higher education to create a manufacturing research powerhouse to meet the cutting-edge needs of our industry partners while at the same time creating a greatly needed local workforce to fill the numerous jobs that OMIC R&D's work will help create."
OMIC R&D focuses research on helping manufacturing industries increase competitiveness while creating partnerships with and integration into the local economy. As research activities expand with high-cost, high-value machinery added on to the production floor, OMIC R&D is expected to increase state and regional commercial productivity in manufacturing and stimulate economic growth and development.
Though OMIC R&D is the 15th such research center established with Boeing leadership worldwide, the Oregon facility is the first Boeing has sponsored in the United States. 
OMIC R&D brings together manufacturing companies and higher education in an innovation environment where "outside-in" applied research with faculty and university students solves real problems for advanced manufacturers. Their direct-to-production applied research addresses relevant problems with immediate manufacturing responses. This type of rapid response in an innovation environment that is right "on the floor" adds value and addresses problem sets in a timely manner.
Portland Community College (PCC) OMIC Training Center
Portland Community College (PCC) will build a 38,000 sq. ft. training center on 20 acres of land in Scappoose, OR, near the OMIC R&D Center. Scheduled to open in the fall of 2020, the OMIC Training Center will be funded by student tuition, state and federal grants, and $9.4 million in existing bond funds invested by PCC. It will provide Oregonians with certified metals manufacturing workforce development, training, and a hands-on "earn and learn" apprenticeship program led by PCC and associated with the Joint Apprenticeship and Training Committee (JATC). This program will emphasize craftsmanship, professionalism, and placing graduates into high-wage, high-demand jobs. Students will be able to complete an associate degree or a certificate leading to an advanced degree.
Portland Community College is a "partner" with OMIC R&D in OMIC Training. Though not a member of the OMIC R&D collaborative, PCC has an office next to OMIC Executive Director Craig Campbell at the OMIC R&D facility to allow for close collaboration.
While PCC OMIC Training Center construction is under way, PCC will offer courses at their temporary OMIC Training site at Scappoose High School. Their first registered apprenticeship for Machinists has been approved by the state, and PCC plans to offer courses there beginning with either the winter or spring terms in 2019, according to Marc Goldberg, Associate VP of Workforce Development and Continuing Education at PCC.
OMIC R&D Cutting Edge Machinery & Equipment
The massive WFL M80 Millturn : A multi-purpose machine that can produce a finished part without needing to move it from machine to machine, as is typical in a manufacturing facility. (Photo courtesy of OMIC R&D.)
OMIC R&D's shop floor and laboratories feature state-of-the-art milling and machining equipment. Currently occupying pride of place in this "factory of the future" is a WFL M80 Millturn weighing 42,000 kg. This newest model, a "factory-in-a-box," is capable of turning out a nearly finished component or product. It is an advanced manufacturing marvel that will increase efficiency and productivity. OMIC R&D's Millturn will soon be accompanied by additional leading-edge machinery donated or on loan by industry members.
The large part shown above was created in the WFL M80 Millturn to demonstrate its abilities to create very large, very complex parts without having to move a piece from one machine to another.
OMIC corporate manufacturing members make sure that OMIC has the very latest in hardware and software, which assures that the R&D done at OMIC is up-to-date and utilizes the very latest technology. Students and apprentices training at OMIC (via the PCC OMIC Training Center) will thus learn how to operate the very latest equipment and use the most current software and methods, making them extremely valuable and sought-after in the workforce of the future.
Another state-of-the-art machine, the Okuma GENOS M560-V Vertical Machining Center, is installed and ready to go.
Beneficial Partnerships for OMIC Members
OMIC R&D's capabilities can benefit companies that may not have the time, focus, or bandwidth to address research issues themselves. Membership is open to any company working in a complementary area that wishes to participate in and support OMIC R&D's research capabilities. 
Some of the OMIC R&D member benefits are :
Access to world-class R&D capabilities
Ability to help set OMIC's research agenda
Participation in generic R&D programs, with shared costs and development
Ownership of specific R&D programs and the intellectual property they may produce
On-site training for employees to upskill or learn new machines
Networking opportunities with world-class companies and supply chain members
Industry recognition through association with the OMIC R&D world-class center of excellence
(To discuss becoming a member of OMIC R&D, contact OMIC Executive Director Craig Campbell via www.omic.us.)
Cutting Tool Engineering Tour of the OMIC R&D Facility
Craig Campbell, the Executive Director of OMIC R&D, was kind enough to take me on a tour of the very impressive facility on Nov. 7  along with Josh Koch, his Programming and Operations Lead.
While I was at OMIC R&D I also had the chance to talk with two SECO Technical Specialists who were in the process of setting up their office at the facility. As of November 2018 two Tier 1 companies and one Tier 2 company have staff on site as part of their membership agreement.
The main shop floor at OMIC R&D is H-U-G-E. This photo taken from the very front does not convery the massive size of the room, and is rapidly filling up with cutting edge equipment.
The SECO specialists openly conveyed their excitement about OMIC R&D, the great possibilities it holds for the future, and showed great enthusiasm about OMIC R&D's sister facility AMRC - the Advanced Manufacturing Research Center, in the UK. There is no other collaborative R&D facility like OMIC in the USA where a committee of corporate and educational / research members can get together and discuss mutual problems they all face and implement a "roadmapping process" to tackle and solve those problems for the mutual benefit of all.
This photo, taken from halfway in the main shop floor, with the huge WFL M80 Millturn in the back, illustrates how incredibly clean and organized everything is. Programming and Operations Lead Josh Koch maintains the room in such immaculate condition you could eat off the floor.
The guys from SECO also pointed out that the training and educational aspects of OMIC R&D and the new training facility that PCC is building were vitally important to companies moving ahead with new products and processes by creating an environment where all the players could work together and train the workforce of the future at the same time.
This photo, taken from the far corner in "the big room" gives you a better idea of the growing number of machines that OMIC R&D is collecting and shows the banners in the background which represent each of the members of the OMIC consortium.
The Future of Manufacturing is Coming and OMIC R&D is Leading the Way
The facility is still in the "fitting out" stage and the OMIC R&D team have many, many tasks to complete before it is ready to go live, which the OMIC team keeps track of with four redundant project tracking systems. 
The most obvious is a sticky note wall covered with post-it notes affectionately referred to as "The daily heads up" board which allows OMIC to track at a high level where a project is and how bids compare to budget to make sure they are constantly aware when approaching budget capacity.   
"The daily heads up" board - one of four redundant project tracking systems used by OMIC R&D to maintain meticulous control over all projects and tasks to keep everything moving and on track.
There is also a white board check list which is designed to (at a glance) inform OMIC what steps they need to be working on to watch the progress of the projects at the top of the list.  They also have an extensive excel spreadsheet for tracking the budget (the third system). 
The fourth project tracking system is the very friendly Michele Vitali, Administrative Lead, supported by the legal and fiscal staff at Oregon Tech.  They process each step of the bids, contracts and payments for each project.  
The photos included in this article were taken during my tour of the facility but do not convey the sheer size of the building and its potential for cutting edge R&D and hands-on training of the next generation of workers which it will help educate and support.
Look for big things to come out of Scappoose in the not too far future. Cutting Tool Engineering will be following their progress and report on developments at OMIC as they occur.
About OMIC R&D Membership
OMIC R&D has three tiers of members:
Tier 1 members commit to $300,000 in dues for the duration of the collaboration agreement (through 2027)
Our Academic members are considered Tier 1 members an contribute to the landlord fund to maintain the facility while also making their researchers available for projects
Tier 2 members commit to $45,000 in dues for the duration of the collaboration agreement
Associate members commit to $10,000 in dues for the duration of the collaboration agreement. This level is designed for smaller machine shops to make sure we do not lose their critical voice.
The dues from each member take the form of either direct funds which are dedicated to a research pool, or through in-kind contributions that support our research efforts (equipment, tools, software, personnel, etc.).
The Tier level of a company indicates its votes on the Tech Board and Governing Board and its access to intellectual property generated from the general research projects.  All members have access to the facility, can arrange for using flexible space here and have a voice at any meeting.  This last point is critical as a collaboration doesn't work unless all of the members have the ability to participate and provide input at all levels.
OMIC R&D CONTACT INFORMATION :
Oregon Manufacturing Innovation Center
 (OMIC) Research & Development

33701 Charles T. Parker Way

Scappoose, OR 97056
Phone: (503) 543-3306

contact@omic.us
Executive Director: Craig Campbell
Administrative Lead: Michele Vitali
Programming and Operations Lead: Josh Koch
REFERENCES:
1.) OMIC R&D Official Website : https://www.omic.us
2.) The St. Helens Chronicle, "OMIC R&D Delivers $3 Million Millturn to Scappoose Facility" April 19, 2018 : https://www.thechronicleonline.com/news/omic-r-d-delivers-million-millturn-to-scappoose-facility/article_d86cd794-442f-11e8-817b-17a1b510767f.html
3.) Business Oregon : https://www.oregon4biz.com/Oregon-Business/Industries/Advanced-Manufacturing/OMIC/
4.) Wikipedia OMIC Article : https://en.wikipedia.org/wiki/Oregon_Manufacturing_Innovation_Center
5.) PCC and OMIC : "PCC Pursues Property in Columbia County via Purchase and Sale Agreement" October 2018 : https://www.pcc.edu/news/2018/10/omic-property/
6.) Portland Business Journal November 2, 2018 : https://www.bizjournals.com/portland/news/2018/11/02/oregon-manufacturing-innovation-center-to-train.html
7.)  The St. Helen's Chronicle, "Global Manufacturer Seco Tools Joins OMIC R&D as 20th Member" September 24, 2018 : https://www.thechronicleonline.com/news/global-manufacturer-seco-tools-joins-omic-r-d-as-th/article_5c8d4de8-c02b-11e8-a316-e3d7cf777bdb.html
8.) State of Oregon+ : SB 5505 Testimony - OMIC - documents relating to the creation of OMIC:  https://olis.leg.state.or.us/liz/2017R1/Downloads/CommitteeMeetingDocument/132050
9.) State Releases $7.5 Million for OMIC:  http://oregoncounties.org/state-releases-7-5-million-innovation-center/