Published
February 07, 2022 - 08:30pm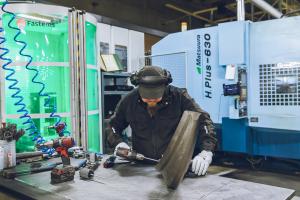 There has been a prevailing myth that manufacturers need to purchase brand new machine tools to incorporate flexible manufacturing systems (FMS). That is not true.
Automating existing machine tools is possible and common. There are ways to navigate through the necessary technical landscape surrounding machine tool interfacing, table or chuck access, safety and more. To help manufacturers through this transition, Fastems has published "The CNC Automation Guide for Existing Machine Tools" which can be downloaded here.
According to Fastems, successful shops are defined by the willingness to invest and trust in new technologies. For all but a handful of manufacturers, though, refreshing their collection of machines every few years – or every few decades – is just not feasible. 
Luckily one of the most efficient methods of boosting production doesn't require the latest and greatest equipment, the company says. The average non-automated machine cuts only approximately 20 percent in a full day. Considered in the context of an entire year, only about 1,752 hours out of the 8,760 total available annual production hours are being used. Automation unlocks that wasted 80 percent. 
A rising trend
In practice, existing machine tool automation or "EMTA" can mean automating completely stand-alone machines, machines that are already integrated into an automation system, or a hybrid of the two. In all its forms, EMTA has experienced an increase in demand because automation can boost production capacity tremendously and bring unique opportunities when floor space is limited. In addition to this, the classic production development parameters around machine tool utilization rate, lead times, reliability, profitability, quality, and employee engagement are important, and a desire to improve in these areas often drives EMTA. 
In addition, production might be lacking in analytics and KPIs, which are things automation can instantaneously provide. Finally, sometimes the existing automation hardware is malfunctioning, or there is a business risk that needs to be solved. In sum, all the so-called traditional benefits of automation are accessible for EMTA cases, and a desire for them usually drives the investment.
Automation options
Automation can be divided into two categories: digital and physical. Digital automation encompasses automated production planning and resource management, like Fastems' Manufacturing Management software (MMS), a software that automatically optimizes workflow by organizing labor and materials according to past data. Digital automation maximizes spindle uptime, minimizes scheduling blunders, and provides a current and informed plan for raw materials, tool, and machines. 
Physical automation solutions are hardware setups that can manipulate materials and tools. Pallet systems are designed to move pallets to workstations according to optimized production plans, saving time and labor. Robots can manage the movement of tools for deburring, washing, measuring, and marking.
Integrating automation with existing equipment
Installing automation systems is less about adding new tools as it is about honing existing tools. The advantage here is that manufacturers won't have to buy new machines, especially when budget or floor space is a limiting factor. 
To integrate seamlessly, though, companies should take an intelligent approach to project management, interface selection, interface development, and making physical changes to current machines. Failing to make a successful integration could result in manufacturing planning software that offers inaccurate data, robots that mishandle their loads, or simply a general decrease in throughput.
The Guide details all the key aspects of automating existing machine tools, including project management, interface selection, and making physical changes to machines.
For more information, contact Fastems at 513-779-4614, visit www.fastems.com, or download the Guide here. 
Related Glossary Terms
chuck


chuck

Workholding device that affixes to a mill, lathe or drill-press spindle. It holds a tool or workpiece by one end, allowing it to be rotated. May also be fitted to the machine table to hold a workpiece. Two or more adjustable jaws actually hold the tool or part. May be actuated manually, pneumatically, hydraulically or electrically. See collet.

computer numerical control ( CNC)


computer numerical control ( CNC)

Microprocessor-based controller dedicated to a machine tool that permits the creation or modification of parts. Programmed numerical control activates the machine's servos and spindle drives and controls the various machining operations. See DNC, direct numerical control; NC, numerical control.