Published
February 24, 2017 - 06:30am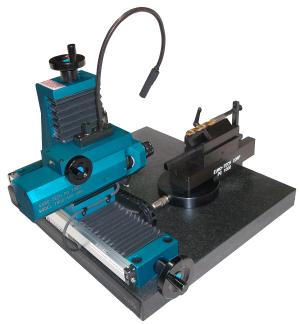 Manual inspection benefits
Automated inspection equipment can offer advantages, such as enabling lights-out machining, but manual methods are typically less expensive and can provide quicker results. One example is a manually operated gage for inspecting round cutting tools.
According to Michael Smith, co-owner of Euro-Tech Corp., Menomonee Falls, Wis., which manufactures the PG1000 manual cutting tool inspection system, a manual gage costs from $20,000 to $60,000, whereas an automatic gage that connects to a CNC tool and cutter grinder costs about $200,000 to $250,000 or more. Such an automated system would remove a blank from a pallet, put it in the machine, remove the finished tool from the machine and inspect it.
He added that a manual inspection can be performed in seconds, depending on the complexity of the tool and the number of features being inspected. "When the operator is grinding a tool, he can make a very simple inspection to see whether the grinding is correct and walk back to work," Michael Smith said. Inspecting a tool with an automated system, however, is not so quick and easy. "By the time the machine cycles through, you might have wasted 5 to 10 minutes."
Nonetheless, he noted numerous customers have automated tool inspection equipment at their facilities, yet incorporate PG1000 systems at various locations. About half of the company's customers are tool manufacturers and half are parts manufacturers, according to Euro-Tech.
A manual tool gage also offers flexibility. This includes being able to inspect one or multiple tool features, including clearance, relief, point and chamfer angles, and a range of batch sizes. Essentailly, the inspection routine is flexible and quick with a manual gage.
About 99 percent of the manual tool inspection systems Euro-Tech sells are PC video-based. This capability enables end users to store the inspection process for future use. "If inspections are stored under a given tool number, you can call that tool number back, displaying the original digital tool image and showing positioning locations, magnifications and focus settings," Michael Smith said. "If the optional illumination tube was purchased, it will light the tool the exact same way it was done the first time. The whole idea is to assist the operator to quickly and accurately inspect his tool and to return to his job of grinding tools."