Published
August 18, 2017 - 10:00am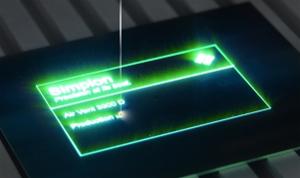 Hexa Research reports that the global laser marking machine market size will reach USD 3.38 billion by 2024, driven by increasing adoption of laser systems in industries such as automobile, packaging and machine tools. The marking equipment industry witnessed notable change over the past two decades, and the trend is expected to continue.
Parts marking has long been an important factor in industrial activities as it provides permanent alphanumerical details on the product in terms of brand name, batch number and other details. This engraving helps in identification and security of the products. As CTE discusses in our August 2017 issue, choosing a parts-marking method depends on the application. Laser marking use has grown in popularity, especially in automobile and machine-tool applications.
Hexa Research reports that:
In 2016, the machine tool industry accounted for 30.7% of the overall market and is expected to witness above-average growth. Rising need for marking precise specifications on manufactured components for identification and sales purpose is projected to fuel the growth of the industry.
Government regulations for permanent marking as traceability are being implemented. For instance, U.S. Department of Defense has MIL-STD-130 standard practice for identification marking of U.S. military property. Moreover, FDA has implemented regulations to establish marking of unique device identification system for medical devices, where labelling is not sufficient.
Han's Laser, Gravotech Marking and Epilog Laser were the leading manufacturers in the global industry. In addition to the core machinery, these companies provide software solutions for using the marking machines which make them user-friendly. Increasing trend of the branding of products is expected to boost the market for laser marking machines.
Fiber laser marking machine use is expected to grow at a 6.6% CAGR owing to its increasing application in the plastic and automotive industry.
More information on Hexa Research and its report, "Laser Marking Machine Market Size and Forecast, By Type (CO2 Laser, Fibre Laser, Green Laser, UV Laser, YAG Laser), By Application (Automotive, Aerospace, Machine Tool, Electronics & Microelectronics, Medical, Packaging, Military), And Trend Analysis, 2014 - 2024" is available at: https://www.hexaresearch.com/research-report/laser-marking-machine-market