Published
September 30, 2013 - 07:00pm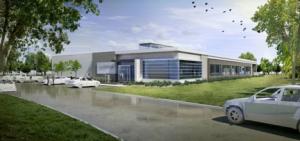 Control Gaging recently broke ground on a new Ann Arbor, Mich., facility, where the company will engineer and manufacture precision measurement systems for the machining industry. The company, which has outgrown its current location, is building a new 24,500-sq.-ft. facility. The new building will improve efficiency in Control Gaging's current operations and provide room for future growth, according to the company.
Control Gaging, founded in 1972, designs, manufactures and distributes high-accuracy measurement devices for customers in the machining industry. Control Gaging says its recent growth is a direct result of an upsurge in manufacturing in the U.S. "We are finding that many manufacturers are bringing their manufacturing back to the U.S. because the cost savings previously associated with off-shore manufacturing are quickly disappearing," said David Hayes, president. "Our products are perfectly positioned to take advantage of this trend because they allow U.S. manufacturers to increase capacity, improve quality and keep labor costs at a competitive level."
Control Gaging's expansion will allow more room for production of its growing sales of conveyor-based centerless grinder gage systems and in-line bore scanning systems. Control Gaging, an ISO 9001 certified company, is a unit of the Marposs Group of companies.
Related Glossary Terms
arbor


arbor

Shaft used for rotary support in machining applications. In grinding, the spindle for mounting the wheel; in milling and other cutting operations, the shaft for mounting the cutter.

precision machining ( precision measurement)


precision machining ( precision measurement)

Machining and measuring to exacting standards. Four basic considerations are: dimensions, or geometrical characteristics such as lengths, angles and diameters of which the sizes are numerically specified; limits, or the maximum and minimum sizes permissible for a specified dimension; tolerances, or the total permissible variations in size; and allowances, or the prescribed differences in dimensions between mating parts.