Author
Kip Hanson
Published
April 01, 2014 - 10:30am
If your shop is looking for a low-cost, simple and effective way to reduce setup time, consider zero-point clamping.
Similar to the mechanism that grips rotary toolholders on many machining centers, zero-point clamps employ a mounting knob and clamping wedge lock to pull a pallet, fixture or other workholding device—or even the part itself—against the ground face of a zero-point chuck. The retention knob sits inside the chuck bore and offers positional accuracy to within a few tenths of an inch and several tons of clamping force until released through mechanical, hydraulic or pneumatic pressure.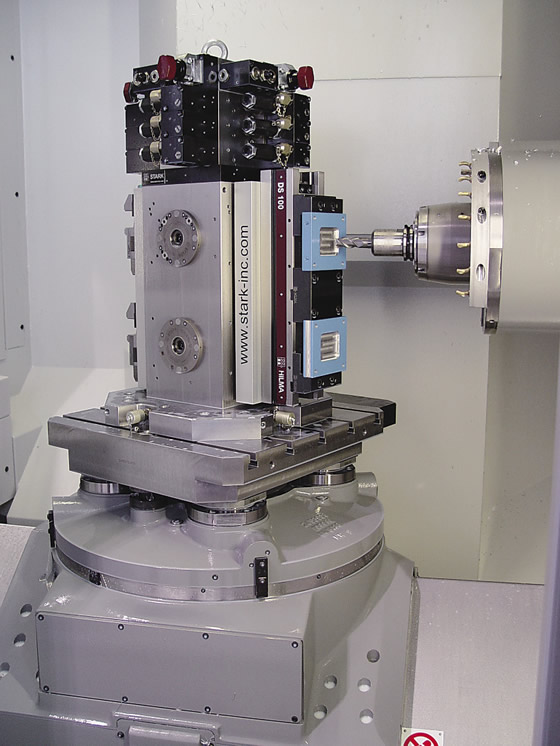 Courtesy of Carr Lane Roemheld Manufacturing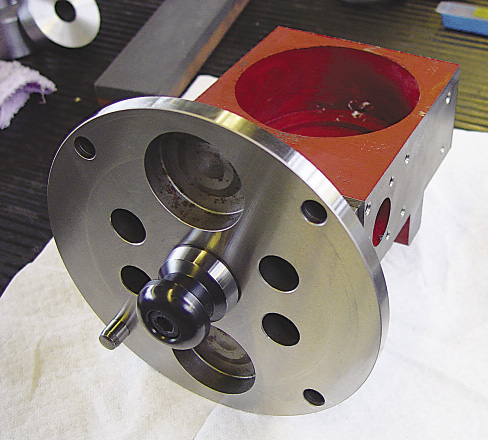 Courtesy of BIG Kaiser Precision Tooling
For example, 6 "-vise aficionados could permanently mount that all-purpose hunk of iron to a piece of precision-ground tooling plate. Bolt a pair of zero-point knobs to the bottom of the plate, then attach a pair of zero-point chucks to the bed of the machining center. Drop the knobs into the chuck bores, flip the switch and go. That means no more cleaning T-slots or looking for wrenches when switching the vise for a fixture or rotary table. If every machine in the shop is set up like this, changeovers can best be measured in minutes instead of hours.
Zero-point clamping does much more than reduce setup time, however. Gerard Vacio, workholding systems specialist at BIG Kaiser Precision Tooling Inc., Hoffman Estates, Ill., said the biggest benefit is reducing process time. "Many shops will clamp the workpiece for operation 10, clamp it in a different vise or fixture for operation 20 and clamp it on the rotary table for operation 30. If each handling takes 2 minutes and the lot size is 50 pieces, that means hours of downtime, far more time than the original setup took." BIG Kaiser is a cutting tool, toolholder and workholder manufacturer and distributor.
Machine shops can eliminate this downtime and also save a ton of money on fixtures by utilizing zero-point to tumble workpieces through successive machining operations without unclamping the workpiece. "In the previous example, you have three fixtures, each one more expensive than the last because it must rely on the accuracy of the previous operation," Vacio said. "Zero-point allows you to build a single fixture and machine five sides of the workpiece in one clamping. You can move it from the mill to the lathe to the grinder to inspection with no loss of accuracy."
Interested? Consider a few things before running out to get some zero-point clamps. First, zero-point might be inexpensive compared to traditional fixtures, but it's not free. Figure on $3,000 or more for a starter kit that contains a handful of pull studs, a pair of chucks and a baseplate preplumbed for pneumatics. It's likely you'll need more than two chucks per machine, as well as extra pull studs, air lines and fittings. Multiply that by 10 or 20 machines and there goes the fund for the company picnic.
Courtesy of B

ig

Kaiser Precision Tooling

Ironically, you might reduce the total price by ordering chucks bigger than needed—the price difference between one with clamping pressure that's just right vs. way overkill is perhaps 20 to 30 percent, and could mean clamping larger fixtures and tooling plates with four chucks instead of six or eight, thus saving some cash.

"We've had customers use a single, large zero-point chuck and place parallels ground 0.0001 " to 0.0002 " thicker than the chuck on either side to support the fixture, placing a very slight amount of preload on the system," Vacio said. "It's very effective."

Another thing to consider is skipping the fixture altogether. "When zero-point first came out, the idea was to use it together with a vise or chuck so you could get it off the machine quickly," said Kurt Zahn, key accounts manager with Carr Lane Roemheld Manufacturing Co., Ellisville, Mo. "But probably 50 percent of the shops we work with today attach the nipple directly to the workpiece itself, either to some sacrificial material that is removed in a secondary operation or by bolting it to an existing datum—a threaded hole, for example."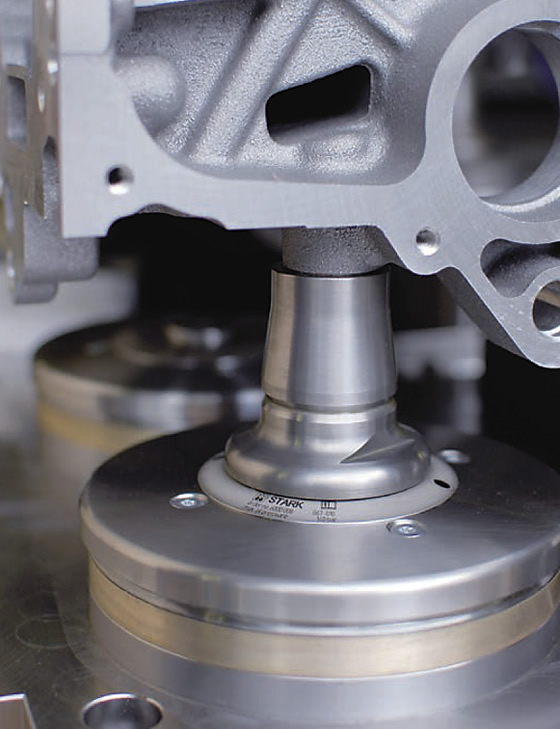 Courtesy of Carr Lane Roemheld Manufacturing
The pull studs, or nipples, Zahn explained, cost around $100 or less and can be removed after machining for reuse. Carr Lane Roemheld Manufacturing is a joint venture of Römheld GmbH and Carr Lane Manufacturing Co. that produces hydraulic clamping and quick-change tooling.
Another zero-point consideration is air vs. hydraulic. Paul Kieta, workholding solutions group sales manager for workholding manufacturer Jergens Inc., Cleveland, said: "Air is a simple way for people to get started. You connect regular shop air via a quick disconnect and you're up and running. Hydraulics, on the other hand, make a lot of sense where you can establish a more-or-less permanent connection."
Don't let that permanence scare you. Hydraulics can be flexible and offer a compact footprint. "They make for a very clean deployment, and are not as expensive as people might think," Kieta said, noting air and hydraulics work equally well in terms of device actuation. "It really comes down to what you're most comfortable with."
Kieta agreed with his competitors that zero-point's greatest virtue isn't setup time reduction, but process improvement. "Shops that have been doing quick-change for any length of time are looking for other places to get savings," he said. "Performing multiple operations with a single clamping means huge possibilities for improved accuracy, automation and throughput. Even for shops that aren't doing 5-axis machining, it can be a real game changer." CTE
About the Author:
Kip Hanson is a contributing editor for CTE. Telephone: (520) 549-7328. E-mail: khanson@jwr.com.