Author
Evan Jones Thorne
Published
March 01, 2014 - 10:45am
Different drilling applications call for different drills. Solid-carbide drills provide high accuracy and speed, but it's no secret that carbide is expensive, making large-diameter carbide drills cost-prohibitive. Indexable-insert drills are one way to reduce the cost of carbide, but the tolerances might not be as close, the finishes not as smooth.
Utilizing a steel body that accepts a detachable carbide tip, modular, or replaceable-tip, drills achieve high cutting speeds and feed rates at a lower price point than solid-carbide drills, while maintaining close tolerances and reducing setup times.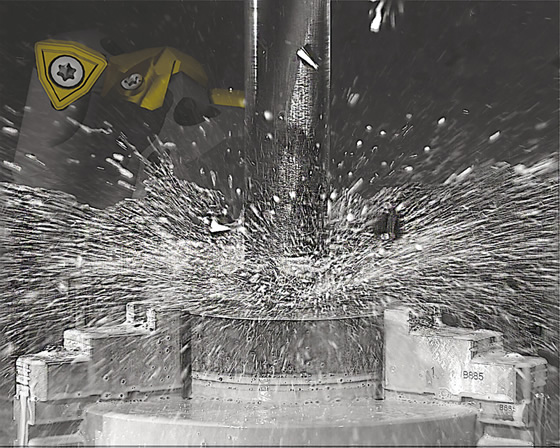 Courtesy of Allied Machine & Engineering
The Allied APX modular drill accepts Allied Machine's GEN3SYS or T-A pilot inserts for various drilling applications.
For example, CNC machine shop N.E.W. (Northeast Wisconsin) Industries, Sturgeon Bay, Wis., began using Iscar's SumoCham modular drills about 2½ years ago to fill new orders of thousands of parts, according to Tooling Manager Jake Schinktgen, and have since used them to replace both solid-carbide and indexable tools in high-volume applications.
"Compared to solid carbide, it's just a cost-saver in general," he explained, "because you get more tool life at less cost, with similar hole quality to solid carbide and way better hole quality than indexable."
Choosing a drill comes down to basic economics, according to Jack Lynch, a senior product specialist with Fair Lawn, N.J.-based Sandvik Coromant Co. When looking at production cost vs. tool performance, it's best to find the right balance between the two. "You don't want to sacrifice performance," he said, "but larger-diameter solid-carbide drills get expensive. The replaceable tip is the obvious solution."
Expanded Application
While replaceable-tip drills are popular due to their cost savings, the knock on them has been they are only good for certain applications. However, advances in coatings and geometries, as well as improvements in machine tools, have led to increased applications for replaceable-tip drills, according to Jacob Miller, product manager with Allied Machine & Engineering Corp., Dover, Ohio.
"We, and the industry as a whole, are constantly looking for new geometries, new substrates, new coatings that can expand the range of applications," he said. "Beyond that, newer machines have faster spindles and better rigidity, so they can really get the most out of this type of tool."
If a modular drill provides close to the same penetration rate as a solid-carbide drill, Miller continued, the cost per hole will be much lower with a modular drill for each application.
To expand into new applications, Allied developed the GEN3SYS XT insert with a new carbide substrate and geometry for drilling stainless steel, a new heat-resistant coating and the "LR" (low-rake) geometry for applications with less-rigid setups.
"There are always going to be applications for solid tools, because with all the variables in the world of drilling, you're going to need all types of different methods," Miller said. "We're always adding to our portfolio for application-specific products, because we know there is not a one-size-fits-all method."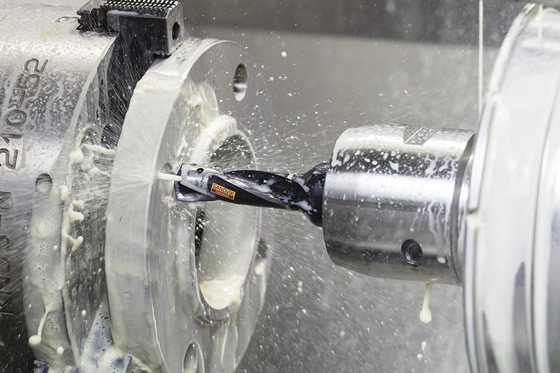 Courtesy of Sandvik Coromant
Sandvik Coromant recommends monitoring tip wear on modular drills, like the CoroDrill 870 shown here, to avoid tool breakage and prevent crashes.
In another new application, Iscar Metal Inc. has introduced the SumoChamGun which is, according to Ben Davis, drilling national product manager for the Arlington, Texas-based toolmaker, the first modular gundrill. While the line is still young, Davis has already seen some clients use the SumoChamGun to replace traditional gundrills, with the double-effective flute geometry allowing them to realize increases from two to five times the machining speed of the original application.
The company has also introduced a flat-bottomed replaceable drill point and a replaceable-tip drill with self-centering geometry for deep holes to its SumoCham modular drill line.
"Standard practice when drilling deep, 8 diameters or longer, is to take a short drill and make a hole about 1 or 2 diameters deep, which helps center the drill," he said. "Our new self-centering geometry allows drilling to 8, 10 or 12 times diameter without a pilot hole, while providing the same level of hole quality and straightness as before by minimizing the radial load and vibration."
Custom Considerations
While standard modular drills are more restricted than solid-carbide drills in terms of small diameters, they offer more possibilities in larger dimensions. Because of the steel shank, the carbide portion is greatly reduced, which makes them not only more economic but also more resistant to tool breakage because steel is less brittle than carbide, according to Alexander Schmitt, global product manager for Kennametal Shared Services GmbH, Fürth, Germany.
The toolmaker's standard range of modular drilling products run from 12.5mm to 40mm (0.49 " to 1.57 ") in diameter in the KSEM line, and 28mm to 100mm (1.10 " to 3.94 ") for KSEM Plus, and reach up to 10 diameters deep. Apart from their stocked standards, custom tools can be ordered. In addition to special geometries for specific jobs or rare back-end styles, custom tools expand the diameter range, including KenTIP drills as small as 8mm (0.31 "), reportedly the smallest practical size for a modular drill, to KSEM Plus specials up to 127mm (5 ") in diameter. Specials can be ordered for making holes up to 30 diameters deep (not exceeding 1,250mm).
"Our KSEM Plus line was introduced about 5 years ago and extends the modular concept a little bit," Schmitt said, noting, for example, a steel shank with an HSS head that holds three carbide inserts: a modular KSEM tip in the middle and two indexable inserts on the side. The drill aims to marry the high metal-removal rate of indexable drills with the feed rates and self-centering capabilities of a replaceable carbide tip.
In addition, Kennametal's new B1- head style affords the product range higher flexibility due to new DFC-style side inserts and a new type of guiding pad that, according to Schmitt, enables the drills to handle stacked materials, inclined exits and cross-hole applications.
Besides an ever-increasing range of new geometries, coatings, substrates and expanded diameters, Mike Smith, product manager with Seco Tools Inc., Troy, Mich., foresees a surge in popularity of twist-on tip connections because of their ease of operation. Seco's CrownLoc Plus utilizes a twist-on tip to reduce setup time and eliminate the need for a torque wrench to set the tip.
"One thing I really like about [modular drills] is that you have a level of flexibility you just can't achieve with solid carbide," he said, "and that flexibility comes with the same type of performance you'd get from a solid-carbide tool in terms of speeds, feeds and tool life." Solid-carbide drills have a tolerance of around H8, he explained, while comparably sized modular drills are typically rated at around H9 and can impart a comparable surface finish.
Regrind or Not?
One of the key benefits of modular drills is that users can choose to eliminate the regrinding of worn tools. While some shops still choose to regrind replaceable tips to extend overall tool life, eliminating that process increases the tools' financial viability because they reduce the cost per part and there's no need to ship worn drills to a resharpener, according to Seco's Smith. "A lot of people like solid carbide because you can regrind them when they wear down, but to do that, you have to build a process," he said. "Let's say you have six carbide drills. That means at any one time you might have two out being resharpened, two in need of resharpening and two in use. With a replaceable tip, you just throw a new one in and you're ready to go."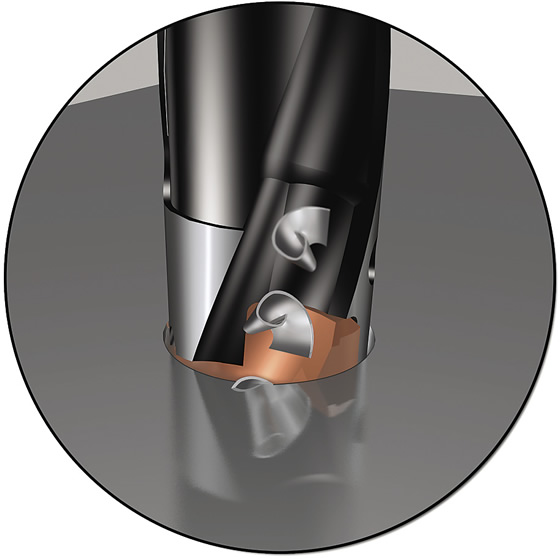 Courtesy of Sandvik Coromant
New substrates, coatings and geometries have expanded the applications for modular drills.
Kennametal offers regrindable tips in its KSEM and KSEM Plus lines, but chose not to offer that functionality in its KenTIP drills, which range from 8mm to 28mm (0.31 " to 1.10 ").
"Regrinding worn tools may make sense in some cases, but making the KenTIP line nonregrindable actually bears other advantages to your total cost of ownership," said Kennametal's Schmitt. "If you regrind the tip, you will have to remeasure, which adds some complexity to your in-house manufacturing process by adding additional setup steps. In addition, you will have to take care of regrinding logistics. If you have a tip that is always the same length, you never have to measure it, which cuts down on mounting time, and you are not waiting for a reground tip to return to production—you simply pick a new one from the shelf."
Preserving Body Life
Another advantage of replaceable-tip drills is using one tool body for an extended period of time. But while the concept of buying one drill body and an infinite number of heads and being set for life is appealing, as with any tooling, wear and tear on the drill body eventually take their toll. Sandvik Coromant's Lynch urges machinists to monitor tip wear to avoid tool breakage and prevent crashes.
"The best way to preserve the life of the drill body is to control the wear on the tip," he said. "Know where to index the insert without pushing it over the limit to the point where you have a catastrophic failure. The trick, of course, is to develop even, consistent wear along the whole edge. If you change the drill [tip] when it should be changed, you're going to lessen the chances of breakage, which is what really destroys the drill bodies."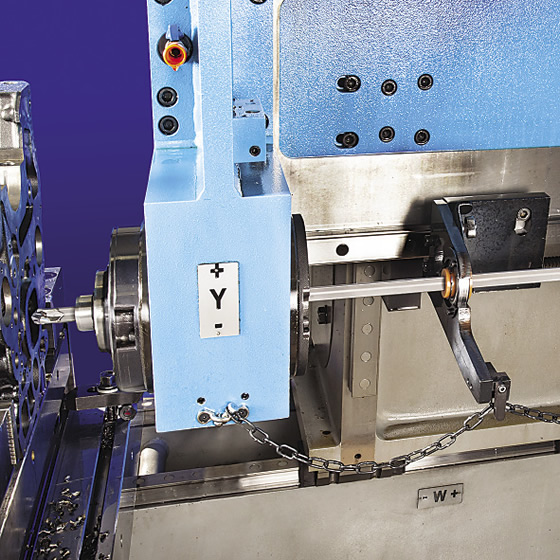 Courtesy of Iscar Metals
Iscar's SumoChamGun has expanded modular drill technology to enable gundrilling.
Monitoring the hole shape and diameter, the spindle load and the feed rate are common ways to track tip wear, Lynch continued.
Typically, after consuming several tips, shops develop their own rule of thumb for when to replace tips—and bodies.
Seco's Smith recommends changing bodies after 12 to 20 tip changes. "The steel bodies don't last forever," he said. "You can extend the life with proper maintenance, but eventually the connection between the carbide tip and the steel body will fatigue, which can lead to tool failure."
In addition, high runout, low coolant pressure (or a lack of internal coolant) and sharply angled workpieces can negatively impact tool life, while weak toolholding and light-duty machines can decrease holemaking quality, said Iscar's Davis.
"If you aren't working at the level where you'd get the best performance out of a replaceable-tip drill due either to your workholding or your spindle power, the economics start to make less sense," he said, adding that it's important to monitor body life. "As with any tooling, good shop practices lead to good results."
N.E.W. Industries' Schinktgen noted after working with the Iscar modular drills for a while, his shop discovered another interesting method for preserving tool life—simply apply the drills at the recommended parameters.
"We've had people on the floor who wanted to slow down the rpms to try and avoid breaking the tips," he said, "but when we tried that, we kept running into trouble. We found that once we ramped the speed back up to where it should have been, around 2,750 rpm, we started seeing the best tool life."
Despite their limits, modular drills marry performance quality and flexibility, and toolmakers are constantly advancing and refining their production techniques. The focus on new coatings and geometries is seeing modular drills taking hold in territory previously occupied by solid-carbide drills on one end of the size spectrum and traditional indexables on the other end. Because of their versatility, there is a continued push to expand the range of available applications for replaceable-tip drills. CTE
---
Contributors
Allied Machine & Engineering Corp.
(800) 321-5537
www.alliedmachine.com
Iscar Metals Inc.
(877) BY-ISCAR
www.iscarmetals.com
Kennametal Inc.
(800) 835-3668
www.kennametal.com
N.E.W. Industries
(920) 743-8575
www.new-industries.com
Sandvik Coromant Co.
(800) SANDVIK
www.sandvik.coromant.com/us
Seco Tools Inc.
(800) 832-8326
www.secotools.com/us