Author
Cutting Tool Engineering
Published
December 01, 2015 - 10:30am

END USER: Haas Saw & Supply LLC, (330) 899-8644, www.haassaw.com. CHALLENGE: Effectively clean and cool grinding oil applied in latest-generation grinders. SOLUTION PROVIDER: Comat Technologies Inc., (571) 830-5793, www.comattechnologies.com. SOLUTION: A filtration and chiller system that directly communicates with grinding machines.

When Haas Saw & Supply LLC, North Canton, Ohio, expanded its operation, the company wanted the latest generation of grinding machines to resharpen carbide-tipped sawblades rather than new machines that featured older technology, noted Jim Haas, company owner.
The company, which has six locations and sharpens and repairs circular metalcutting saw blades, uses portable-cartridge units to filter particles down to 15µm from the grinding oil.
"They work, but we know there had to be something better," Haas said.
He was looking to install a CM 300 and a CMF 300 grinding machine from Vollmer of America Corp., Carnegie, Pa., at Haas Saw's newest location, Conroe, Texas, and needed the grinding oil filtered to a finer level to maintain the high-quality output and 5µm to 7µm accuracy those machines provide, according to Haas. "We wanted to go to this new generation of grinding equipment because it is light years ahead of the older versions," he said.
While touring the facility of Julia Utensili spa, Haas saw that the Italian producer of circular sawblades has Vollmer CM machines, but he wasn't familiar with the filtration technology Julia uses for its grinders. He was informed that it was a Comat Model 2F25 filtration and chiller system from Comat S.r.l., Ossona, Italy. (The U.S. subsidiary is Comat Technologies Inc., Vienna, Va.) "I knew right then that this was the right machine," Haas said.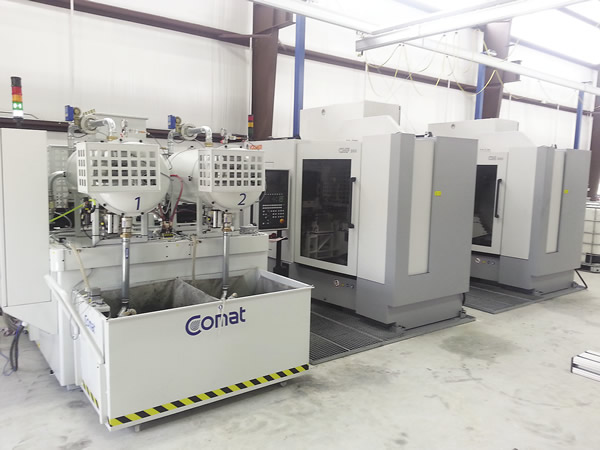 Haas Saw purchased a Comat Model 2F25US-14 filtration and chiller system to achieve a 3µm filtration level for synthetic oil when resharpening carbide-tipped saw blades on its CM 300 and CMF 300 grinding machines from Vollmer of America Corp. Image courtesy Comat Technologies.

In addition, Haas wanted the filtration system to be automated, which requires the Comat equipment to communicate with the Vollmer grinders and vice versa. This was achieved with a 10-pin Hart connection. "What that basically means is the Comat filtration system is getting signals from the Vollmer machines, saying, 'I'm sending you dirty oil; send me clean oil when I need it,'" Haas said, noting the synthetic oil is filtered to a 3µm level.
That "crystal clear" level of cleanliness not only enables the grinding wheels to grind properly, because carbide particles larger than 3µm are not clogging the wheels, but the grinding machines will not get impregnated with carbide, Haas explained. "By cleaning all the carbide out of the oil, the machines will run at a high level for longer, which is not achievable when grinding with dirty oil."
He said Haas Saw will never have to replace the grinding oil, only replenish it as the supply is reduced during the grinding process as a result of oil being carried off on the blade being processed.
The chiller portion of the Comat system also enhances grinding wheel performance while extending component life. Haas noted when oil is too hot, the diamond grinding media does not function as well, and hot oil negatively impacts components in a grinder, such as rubber seals. The oil should remain close to ambient temperature, so Haas Saw set the chiller to reduce oil temperature by 3° C (5.4° F) when it reaches 28° C (82.4° F). "We have the ability to dial in any temperature range we want," Haas said.
He specified the equipment to be delivered within a year, but received everything within 8 months. "I gave them more than enough time than they needed, so if there were any hiccups or problems, they could be sorted out well in advance of when we needed it," he said. "It was basically plug-and-play when the equipment arrived."
Because Haas Saw did not have any previous experience with equipment from Comat, meaning Haas Saw wouldn't know if the filtration system was functioning properly or not, it requested that the system have a static Internet protocol address. This enables Comat to remotely monitor all filtration and chiller functions and generate a quarterly system-operation report for Haas Saw.
Once Haas Saw began operating the new grinders and filtration system, the company found that aspects of the grinding process are 30 to 65 percent faster than the older-generation machines. Haas Saw resharpens blades from 200mm to 1,440mm (7.874" to 56.693") in diameter on the grinders. In addition, the combination of the latest-generation grinding and filtration technologies enables the company to impart mirror surface finishes on carbide tips.