Author
Alan Richter
Published
June 01, 2015 - 10:30am
Whether it's by conventional coolants, minimum-quantity lubrication or cryogenics, end users want effective cooling and lubrication of the tool/workpiece interface, easy integration of the system into a machine tool, a low environmental impact and a healthy and safe environment for their workers. Add supercritical CO2 (scCO2) to the list of what users want. Developer Fusion Coolant Systems Inc. says scCO2provides superior performance for those characteristics compared to the competition.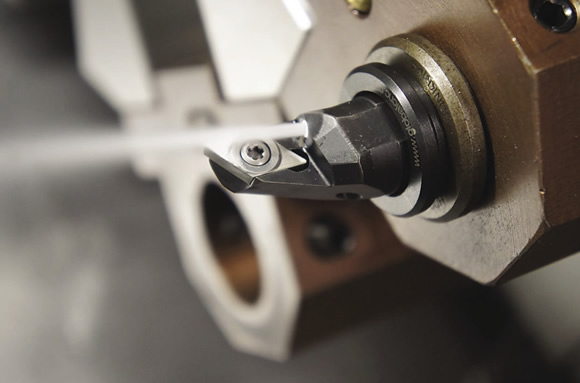 Invented in 2003 by Dr. Steve Skerlos, a professor at the University of Michigan, Fusion Coolant was founded in 2009 as a spin-off company from the university to commercialize the technology. After developing and testing the system across multiple platforms, Fusion will achieve that in near future, according to CEO Brad Darr. "We are in the process of integrating the technology with a European machine tool builder that will apply it to a medical application."
Darr explained that scCO2 completely dissolves a lubricant or metalworking fluid in the scCO2 stream and delivers the solution to the cutting zone via a single channel. "We've been using standard off-the-shelf MQL oils, vegetable oils and cutting chemistries that our customers already use and haven't had any problem dissolving any type of lubrication in the stream," he said. The scCO2 system enables a controlled flow of oil from 6 to 600 mL (0.203 to 20.288 oz.) per hour, depending on the application.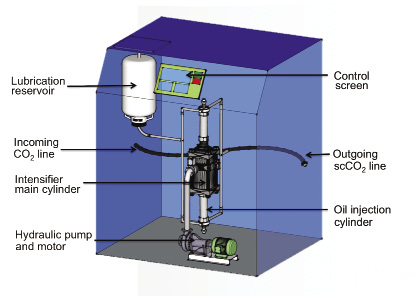 When it comes to CO2, any pressure higher than 1,200 psi (82.7 bar) is considered supercritical, Darr noted. The typical operating pressure for the system is from 1,500 to 2,500 psi (103.4 to 172.4 bar), and dialing up the pressure increases the heat-removal capability. The operating temperature of the scCO2 as it travels through the machine tool spindle or externally to the tool is 31.1° C (88° F). At the freezing point, or point of expansion, upon exiting the tool, the CO2 is about -78° C (-108° F).
Because the coolant flow must be restricted to achieve the supercritical pressure, Darr noted the 1mm (0.039") coolant ports on standard cutting tools are too large for the scCO2 system. "We are operating in the range of 150µm to 250µm," he said. "We have several large toolmakers making tools for us; notably, Seco has been involved with several tests. They are building a suite of tools for various medical applications."
In addition to dissolving an oil or coolant in the supercritical stream, the scCO2 can be applied in its pure form because it has lubricating properties, according to Darr. Eliminating cutting fluids is beneficial to manufacturers of medical implants because the machined part is free of residue, which would need to be removed before it went into a human body.
"Medical implant machining is one of our primary target markets," he said. "Major productivity gains, lower operating cost, elimination of cutting fluid and the opportunity to reduce downstream cleaning operations make scCO2 a great fit for the medical industry. We have machine tool OEMs that offer Fusion Coolant as a standard integrated option and we're providing full turnkey solutions to a select group of medical device OEMs."
For more information about Fusion Coolant Systems Inc., Detroit, please call (734) 390-9950 or visit www.fusioncoolant.com.