Author
William Leventon
Published
March 01, 2016 - 10:30am
Networking option
Could the introduction of a small electrical cabinet turn out to be a big step toward more widespread implementation of the Industrial Internet of Things?
This special electrical cabinet, called the SmartBox, was developed by machine tool builder Mazak Corp., working in collaboration with networking equipment provider Cisco Systems Inc. The SmartBox is designed to overcome concerns about complexity and security that have led to resistance to connecting machine tools to a plantwide network.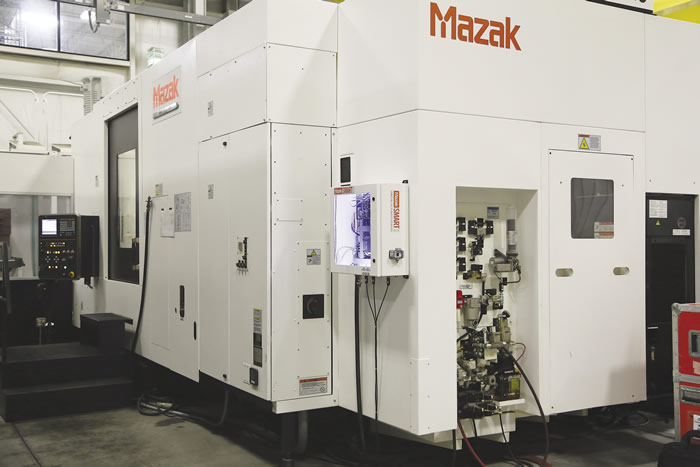 A SmartBox operates in a Mazak manufacturing cell. Image courtesy Mazak.

Developed to work with any machine, the SmartBox mounts to the side of a machine and runs independently of the machine's electrical system. Equipped with several standard connecting ports, the cabinet lets users quickly connect off-the-shelf sensors for machine data gathering and condition monitoring. In addition, Mazak offers an optional sensor package, according to Neil Desrosiers, application engineer.
The SmartBox is built around Cisco's Industrial Ethernet (IE) 4000 switch, which includes switching and computing chips and runs MTConnect. MTConnect, the open manufacturing communications protocol based on XML and HTTP Internet technology, provides a common language for data sharing between diverse machine types and monitoring and data-analysis software.
While the machine it is attached to is operating, the SmartBox gathers manufacturing data via the MTConnect protocol using what's known as a "fog" computing model. The old model was to aggregate all computing functions up in the cloud, explained Bryce Barnes, Cisco's senior manager of connected machines and robots, but sometimes machine-related decisions must be made in near-real time.
"In the new model, we want to extend 'compute' functions very close to the edge, where the machines and tools are," Barnes said. While real fog is a cloud that's close to the ground, fog in this context is computing that's close to that edge. "With fog, we're taking compute from the cloud—from the data center—and moving it closer to the machine."
The MTConnect agents running on the IE 4000 allow users to see raw data by opening up a browser on a computer screen. To save and analyze the data, users must purchase additional software for shop floor monitoring, Desrosiers said.
To allay the security fears of IT departments, the switch is also designed to help prevent unauthorized access to or from a machine connected to a plant's main network for the purpose of gathering manufacturing data.
With a secure and relatively easy networking option like the SmartBox, "people are running out of excuses for not connecting equipment," Desrosiers said.
For more information about Mazak Corp., Florence, Ky., call (859) 342-1700 or visit www.mazakusa.com. For more information about Cisco Systems Inc., San Jose, Calif., call (800) 553-6387 or visit www.cisco.com.