Author
Kip Hanson
Published
June 01, 2016 - 12:00pm
I'm not a huge fan of machinist's vises. Even with a speed handle and a couple cups of coffee in your belly, it seems like it takes forever to crank them open wide enough to change a pair of jaws. And once they're bolted in place, having to tap them in with a hammer and check them with a dial indicator only adds insult to injury. Surely there's a smarter way to hold parts in a machining center.
According to Doug Fontaine, there is. The national sales manager for CARVEsmart, Cottage Grove, Minn., Fontaine said his company's vise jaw system increases machine uptime by the equivalent of $2,500 per vise annually, on average, for those that change jaws daily.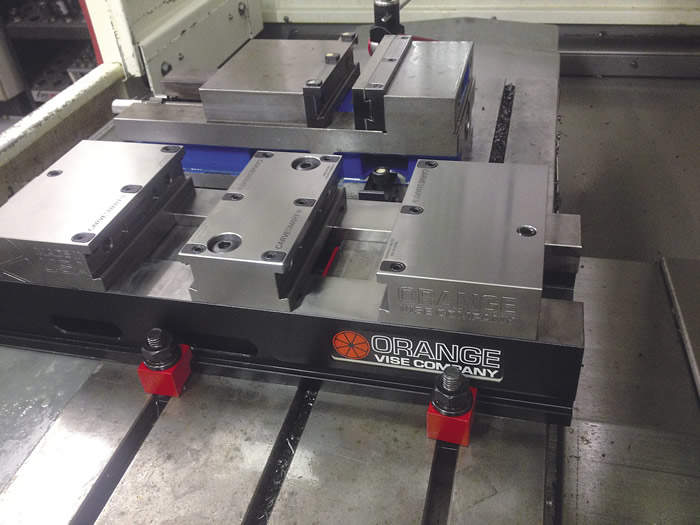 Orange Vise designed a CARVEsmart vise with the master jaw configuration integrated directly into the vise body. All images courtesy CARVEsmart.

"We started the patent work for the CARVEsmart quick-change jaw system in 2010," he said. "My business partner, Bill Ehnstrom, is a toolmaker who was tired of replacing vise jaws all the time and wanted to spend more time machining parts. He came up with the idea for our master jaws using a dovetailed profile. The system eliminates the need to unscrew the cap screws every time you change jaws, replacing it with a connection that's solid, fast and true."
Each 6" CARVEsmart master jaw contains three dovetail clamp assemblies, which grip a replaceable dovetailed steel or extruded aluminum jaw. The two halves of each clamp are connected by a differential screw, with opposing right-hand and left-hand threads at either end. The dovetail assemblies travel in D-shaped vertical slots in the top of each master jaw, at the bottom of which sit threaded holes that engage the opposite ends of the differential screw. Turn the screw's socket head one direction and the 1018 steel dovetail clamp closes; turn it the opposite direction and it lifts, releasing the replaceable jaw within seconds.
"The design was pretty good right out of the box, but we've kept our ear to the ground, looking for feedback from customers," Fontaine said. "Our Instagram account has been a big help. Because of all the clever ideas received from our customers, we've been adding to our product line and making
improvements."
One improvement was CARVEsmart's decision to partner with Orange Vise Co. LLC, Union City, Calif., which developed a vise design specifically for the quick-change vise jaws. CARVEsmart is also collaborating with high-density workholding provider Mitee-Bite Products Co., Center Ossipee, N.H., and lists TalonGrip jaws in its catalog.
Fontaine said CARVEsmart jaws are used in two ways. For toolrooms and prototype shops, where jobs typically return to the same machine every time, he recommends one of the company's steel master-jaw sets. These are equipped with SMARTstop, a slot in the master jaw and dowel pin pressed into the male portion of the dovetail, providing locating repeatability of ±0.0003" (0.0076mm).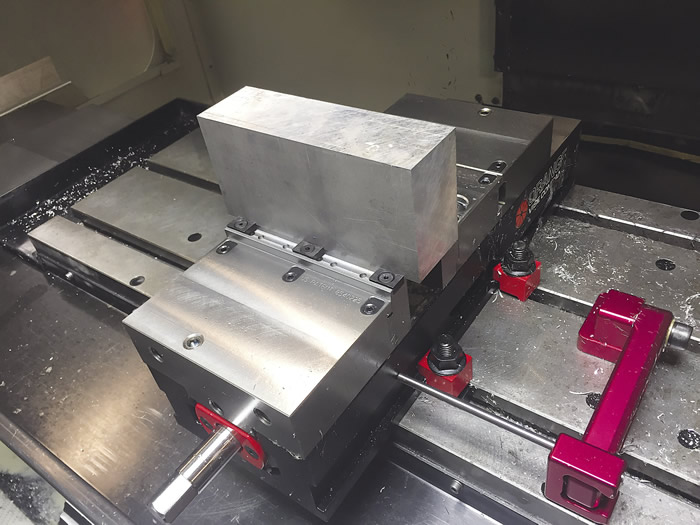 CARVEsmart's Talon Top jaw accommodates multiple Talon Grip clamps from Mitee-Bite.

For production environments, a simpler—if somewhat unorthodox—approach that uses extruded aluminum soft jaws is recommended. "Jobs move from vise to vise and machine to machine in most job shops," Fontaine said. "So what usually happens with conventional vises is the jaws get machined the first time and then get placed on a shelf when the job is done. When the parts come around again, the next guy has to go find the jaws, open up the vise, clean it out, indicate everything in and set the work offsets. It takes a lot of time and is never as accurate as the first setup on the original vise."
Fontaine said it saves time to keep the cutting tools needed for jaw machining resident in a toolholder and retain the program used to cut the jaws from the initial job setup. On repeat jobs, simply load a new set of jaw blanks and call up the jaw program.
"Using our aluminum extrusions is far less expensive than making your own soft jaws," he said. "For shops that do make their own, there's no need to mill bar stock flat or drill mounting holes and counterbore. Just saw the extrusion to any length, stick it in the vise and start machining."