Author
Kip Hanson
Published
January 01, 2015 - 10:30am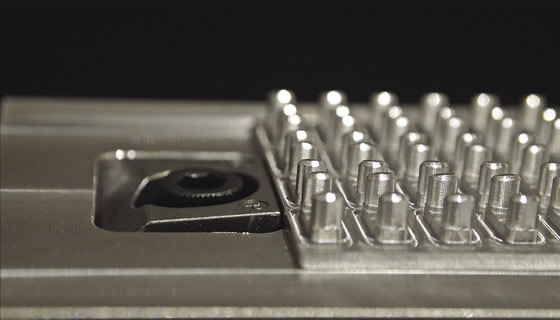 Courtesy of Mitee-Bite Products
Recessed clamps from Mitee-Bite allow for low-profile workholding.
Wedge, cam, square and pull-down clamps, micro vises and chucks, hexagons and rounds. These are just some of the workholding options available to shops that mill small workpieces. Finding the right clamps isn't a problem, but how they're utilized may be. This article examines some of the options and provides tips on how to use them.
Small Parts, Small Clamps
Consider a job for a few thousand surgical widgets roughly the size of a paper clip. Some shops might try to fall back on the standard 6 " (152.4mm) vise and a set of machinable, or shallow step, jaws to grab a fingernail's worth of material along the workpiece bottom. That's probably not a good idea.
Holding tiny parts in this manner is like pounding penny nails with a sledgehammer. Even with a delicate touch, a 6 " machinist's vise exerts hundreds of pounds or more of clamping force, which can quickly distort small workpieces. Big, clunky vises are also inefficient in terms of machine capacity. A typical 20 "×40 " (508mm × 1,016mm) machining center would be hard pressed to hold half a dozen such vises, and with two workpieces per vise, that's a paltry 12 parts per cycle.
Better to go with a clamp designed for small workpieces. Many utilize a wedge activated through the turn of a screw, which opens a set of expandable rails, activates a cam or mechanically forces the vise jaw against the workpiece.
Carr-Lane Manufacturing Co.'s Tiny Vise is one such device. The St. Louis-based tooling provider offers the vise in serrated, V-jaw and double-edge configurations, the smallest of which is 0.250 " (6.35mm) high × 0.562 " (14.275mm) wide and uses a #8-32 screw to generate 60 ft.-lbs. of clamping force. Colin Frost, chief business development officer, said a pair of opposing wedges provides the vise's clamping motion by drawing together as the clamping screw is engaged.
"The Tiny Vise not only applies force horizontally against the part but also presses it down," Frost explained. "Multidirectional clamping such as this is very effective for fixturing small parts, where it's important to securely grip the sides of the workpiece while keeping the top clear for machining."
Living on the Edge
One of Carr Lane Manufacturing's customers, Lund Manufacturing Co. Inc., Farley, Iowa, uses the Tiny Vise to clamp zinc and aluminum die castings. Tool and Die Manager Dennis Foxen pointed out several applications for this type of workholding, including facemilling a pump cover roughly 4" (101.6mm) in diameter, where a 3⁄8 "-high (9.525mm) CL-50-T twin-acting vise is actuated by a 5⁄16-18 flat head screw. "I built a steel block around three sides of the Tiny Vise, so when the screw is tightened, it pushes simultaneously against the block and the workpiece, forcing it against a set of stops."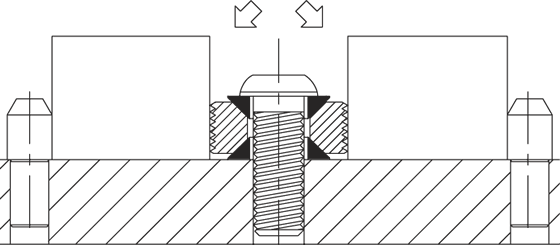 Courtesy of Carr Lane Manufacturing
The Double Tiny Vise design from Carr Lane Manufacturing includes a pair of wedges, creating simultaneous downward and outward pressure.
Foxen said most of the parts Lund machines are gripped with serrated jaws, which do a good job biting into the soft material typical of die castings. This approach is effective when clamping on noncosmetic surfaces, where the marring that comes with this type of jaw is unimportant, and on material that will later be machined away.
The use of sacrificial material is fairly common when machining small workpieces. A group of Lilliputian-sized parts can be milled from one large block of material, then separated from the carrier material in a secondary operation. In this scenario, the clamps are often dropped into a baseplate or fixture, with only the topmost edges of the vise jaws peeking out. This minimizes the amount of material to be sacrificed and keeps the setup close to the table.
David Bishop, general manager of Mitee-Bite Products LLC, Center Ossipee, N.H., said many of the company's clamps can be recessed into the fixture base (see photo on page 74). "We have customers gripping on less than 0.050 " with our Pitbull clamps and 0.030 " with the TalonGrips. However, it's important when gripping this low on the workpiece that the proper clamping solution is selected, which is why we recommend that customers contact our engineering department for applications such as this."
Sometimes, parts are secured via machinable wax, a castable thermoplastic material intended for temporary gripping of difficult-to-hold workpieces. In Mitee-Bite's recessed clamp, the workpieces are "potted" in a fixture filled with a proprietary compound heated to 225° F (107° C). Once cooled, the carrier is cut from the potted workpieces, and the wax is remelted to release the finished parts.
Okeydokey
Small clamps aren't limited to small workpieces. Compact workholding is used in high-density fixturing and for grabbing a sliver of material along the base of larger parts, allowing for complete machining of a workpiece's periphery. One example is the OK-VISE, manufactured by OK-Vise Oy, Muurame, Finland, and sold in North America by distributors, including Fixtureworks Workholding Technologies LLC, Fraser, Mich.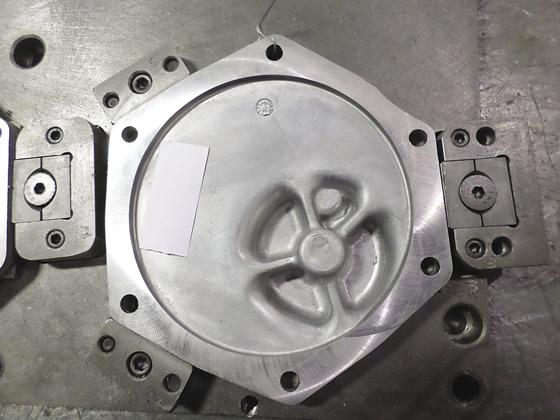 Courtesy of Lund Manufacturing
A die-cast pump cover is clamped for facemilling.
Justin Gordon, general manager of Fixtureworks, said the vise uses a pair of wedges to simultaneously apply lateral and downward force. Like many of its competitors, the OK-VISE line offers a small footprint and surprising gripping capability: The Model BK2-VT measures just 29mm (1.14 ") across, yet generates clamping forces of 25 kN (5,620 psi).
With this gripping power, it might be possible to ditch conventional vises entirely in favor of dedicated fixturing. In those instances where the OK-VISE is too powerful for delicate parts, however, Gordon suggests a wedge-style clamp from IMAO Corp. "It grips almost like a collet. You could easily hold a thin part like a washer or stamping and get nice, uniform pressure all the way around," Gordon said.
Watch What You're Doing
Another company with a big footprint in small gripping is Röhm Products of America Inc., Lawrenceville, Ga. For example, the company provides tooling for the watchmaking and medical industries.
The KZS series power-operated centering vise, for example, comes in hydraulic and pneumatic models and is suitable for small, delicate workpieces. Matthew Mayer, CEO at Röhm, said these vises measure 100mm (3.94 ") square and are often nested in an array pattern and mounted to a pallet system, providing for quick changeover of high-density workholding.
Not all workholding used in the milling department must be rectangular. Collet chucks and 8-jaw vises for thin-walled parts can be adapted for machining centers, as can mandrels that clamp on small bores down to 3mm (0.118 "). Mayer said the company's watchmaking chucks are used by companies such as Tiffany and Rolex to manufacture components used in timekeeping mechanisms, many of which are less than 1mm (0.039 ") thick and obviously require extremely light gripping forces suitable for watch components.
Any of these workholders might be a good option for machine shops. Prices range from $20 for a basic vise to several hundred dollars for a pneumatic version. Some engineering and fixture building will be required, as well a little bit of thinking outside the box. When properly implemented, though, workholders for small parts effectively hold just about anything that calls for a firm but gentle touch. CTE
---
About the Author
Kip Hanson is a contributing editor to CTE. Telephone: (520) 548-7328. Email: khanson@jwr.com.
---
Contributors
Carr Lane Manufacturing Co.
(314) 647-6200
www.carrlane.com
Fixtureworks Workholding Technologies LLC
(888) 794-8687
www.fixtureworks.net
Lund Manufacturing Co. Inc.
(563) 744-3668
www.lund-diecast.com
Mitee-Bite Products LLC
(800) 543-3580
www.miteebite.com
Röhm Products of America Inc.
(800) 445-7646
www.rohm-products.com