Author
Alan Richter
Published
February 09, 2023 - 12:00pm
Theoretically, a machine tool spindle can be repaired an infinite number of times and remanufactured no matter how extensive the damage.
"In extreme cases, the damaged components can be remanufactured to the point of remaking the whole spindle," said Zeljko Cvitkovic, engineering manager of spindle remanufacturing/production at SKF USA Inc. in Lansdale, Pennsylvania. "The determining factor when considering a spindle rebuild is usually cost. Ideally, customers pay less than half the cost of a new spindle to repair an existing one. Sometimes the cost will be higher, but if the repair cost is estimated to exceed the cost of a new spindle — and it is readily available — then it makes sense to buy a whole new spindle."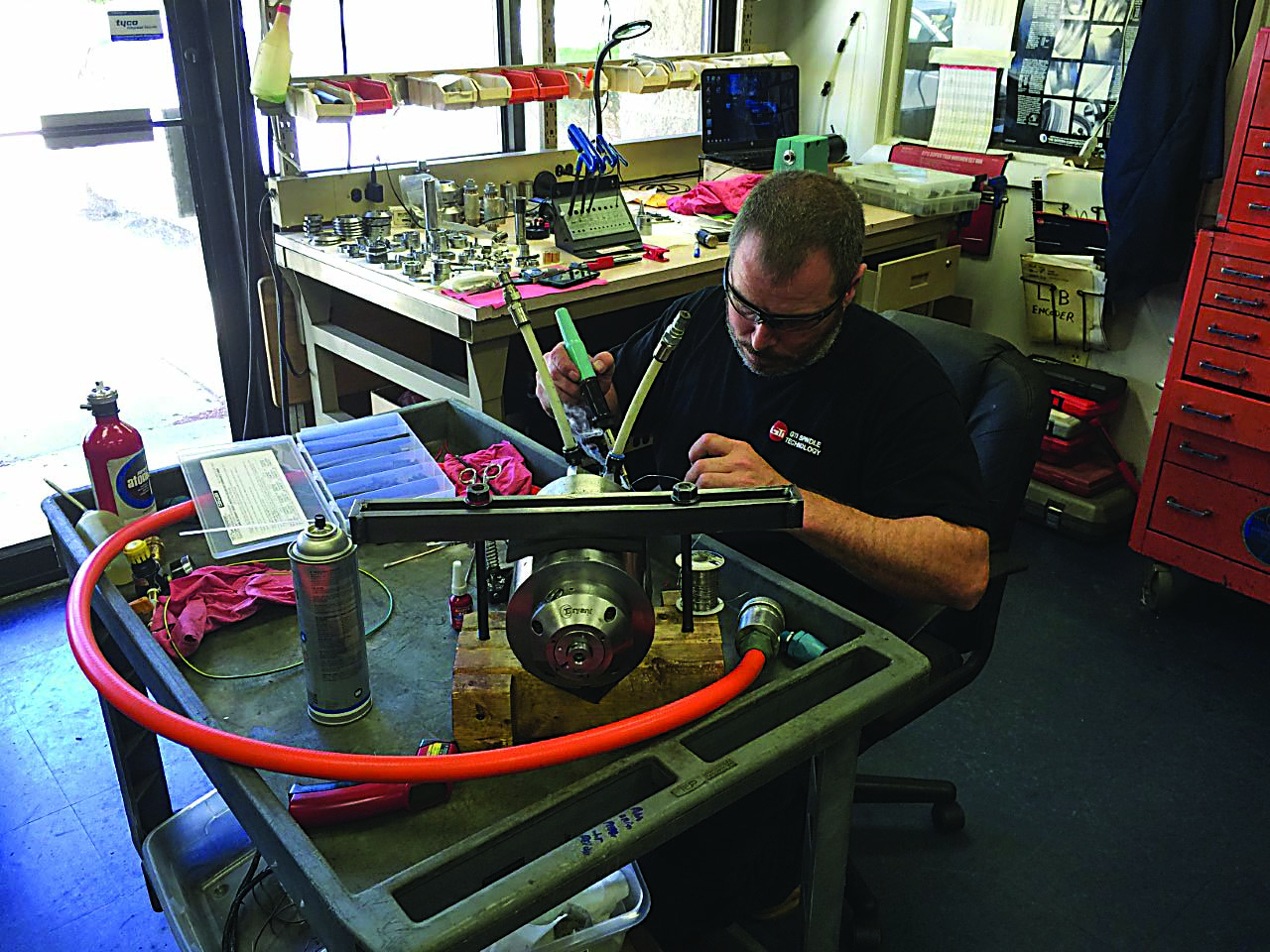 Tom Hoenig, president of GTI Spindle Technology Inc., concurred that the general rule is to repair a spindle when the cost is about 50% of a new one. The Manchester, New Hampshire-based company, which has two other U.S. facilities, provides repair, remanufacturing and rebuild services for spindles and other machine components and is the exclusive North American reseller of spindles from Italian manufacturer Peron Speed International.
However, he said COVID-19 caused the 50% threshold to go much higher.
"We have had customers pay over the price of a new spindle for a repair because of the shortages and slow delivery from OEMs," Hoenig said.
Nonetheless, those supply disruptions have increased the lead times to obtain new spindles, which can be devastating to a manufacturer that doesn't have a backup spindle when needed.
"Spindle failures can lead to a whole production line shut down and the associated high costs of lost production," Cvitkovic said. "On top of that, a new spindle may not be available from the original equipment manufacturer for months."
He said even if a repaired spindle costs as much as a new one, SKF USA can deliver it in significantly less time, allowing the equipment to be up and running faster.
"The OEM price and delivery of the new spindle sets the bar for everything," Cvitkovic said.
Pull Before Failure
One way to reduce the repair cost is to be proactive and have a spindle serviced while it's still spinning instead of waiting until it's "torpedoed," Hoenig said.
"If you're pulling a spindle before it locks up, you just saved yourself 50% of the repair cost because you didn't let it run to failure where it seizes and where bearings tend to spin inside and wreck all kinds of components," he said. "The electrical field will be burned out because you tried to drive bearings that are locked up. If you wait till it stops running, you're really doing yourself a disservice."
Not only does the cost go up, but the lead time increases. A torpedoed spindle might need to have components reground and chrome-plated, housing surfaces checked and fixed and components remanufactured or reverse-engineered to make new ones, said Lisa Bailey-Beavers, vice president of sales and marketing for GTI Spindle Technology. Regardless of how extensive the damage is, the company brings spindles back to OEM specifications or better.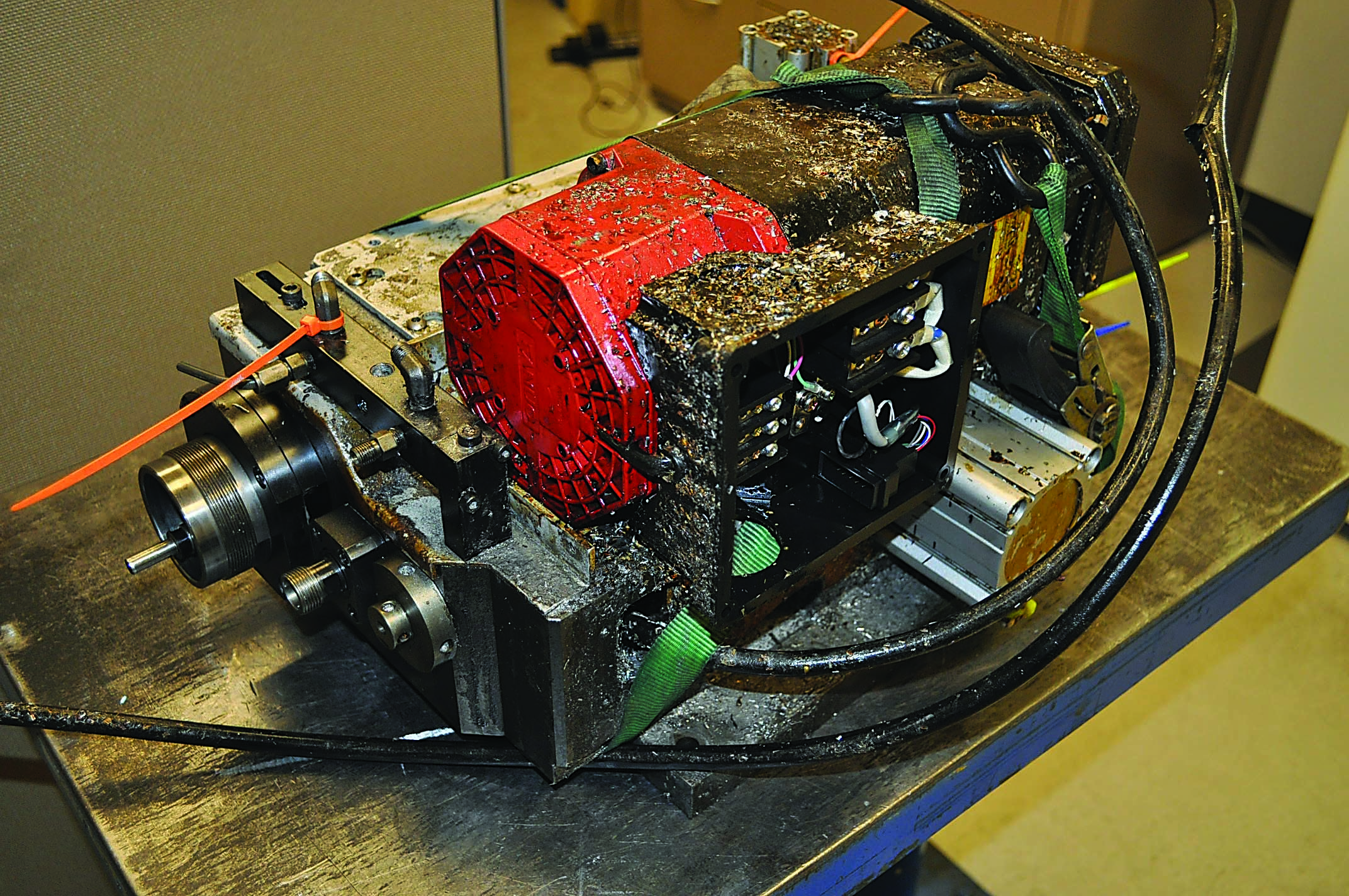 Cvitkovic said although some end users assume that a spindle repair involves only taking the spindle apart and installing new bearings, that is rarely the case.
"In some situations, spindles are run to failure and come to a screeching halt," he said. "When that happens, other components get damaged, not just the bearings."
Cvitkovic recommends that end users be proactive and watch for changes in performance to help determine when a spindle is starting to fail. For example, the spindle may begin to sound different when rotating, the surface finish on parts may look degraded or the spindle may be too hot when touched.
"If you ignore those signs," he said, "that's what could increase the cost and the time to repair."
To know when a spindle is going to fail, Hoenig said his company has a division called GTI Predictive Services that provides predictive maintenance. While GTI repairs spindles at its facilities with rare exceptions, the company does a full analysis of functioning spindles at customers' plants.
"It could be 100, 300 machine tools so that we know at any given time — in real time — what condition their spindles are in and whether they are coming to a failure mode," he said. "They're never down without knowing that something is going to fail ahead of time."
Predicting spindle failure centers around wireless vibration analysis that is either conducted manually by a technician about once a month or monitored continually online, Hoenig said. In addition to reducing the cost of repairs, predictive maintenance services allow customers to minimize downtime by planning when to shut down a machine to change a spindle.
If a manufacturer does find itself in a scenario in which it's critical to get a damaged machine spindle up and running as soon as possible, he said GTI offers a quick turnaround option for emergency repairs.
"The customer can pay a premium to be pushed to the front for speedy delivery," Hoenig said.
Main Causes
One common and obvious reason for spindle damage and failure is operator error.
"The operator may exceed the capacity of the spindle or write the program incorrectly and cause a hard crash," Cvitkovic said. "In our inspection process, we evaluate everything to determine what needs to be repaired or replaced."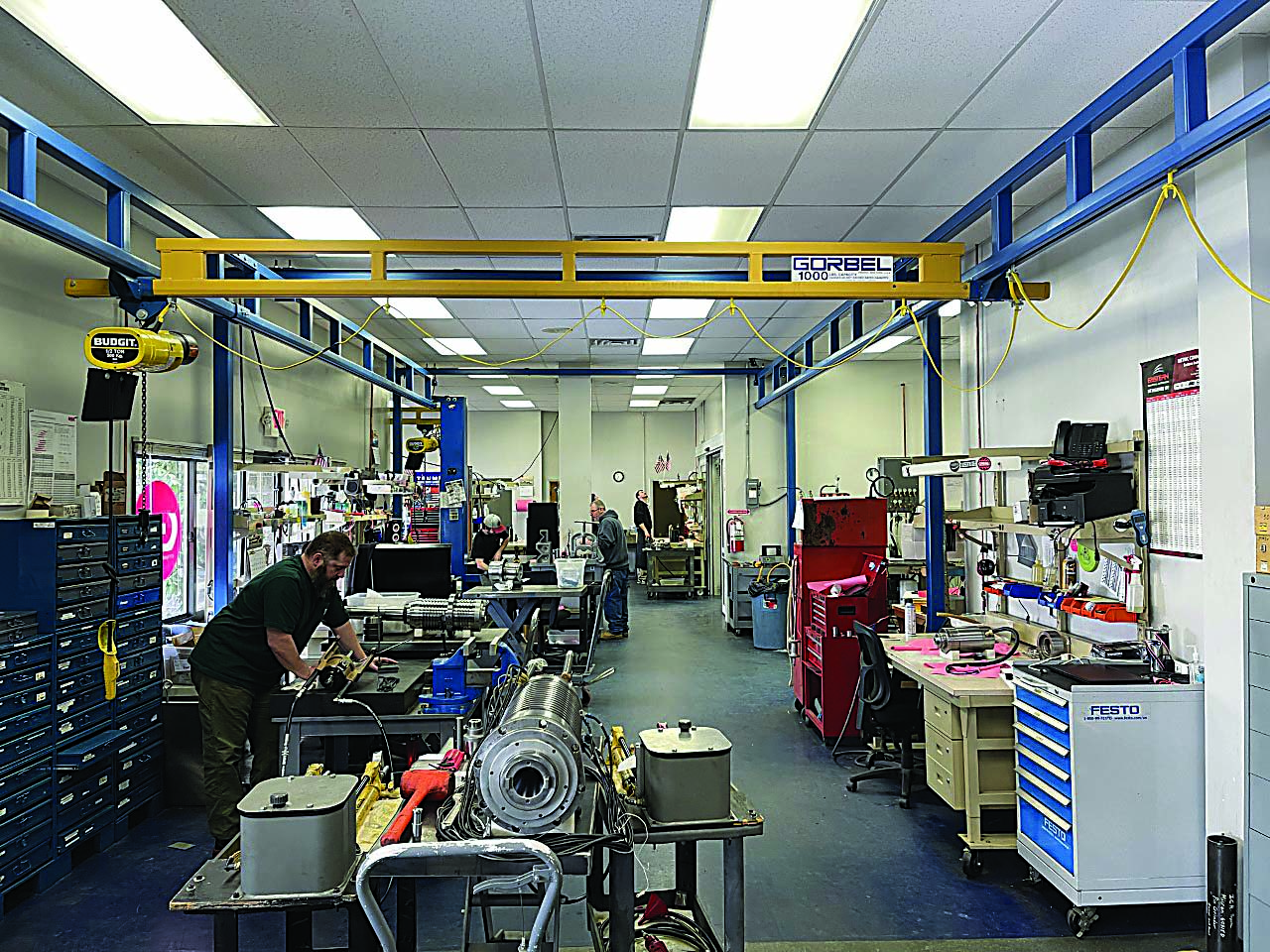 He said another primary cause of spindle failure is contamination. The contamination, which can be from coolant, chips or grinding swarf, works its way into the spindle, causing premature failure.
When contamination issues are found during spindle evaluation, Cvitkovic said SKF USA discusses the problem with the customer and recommends ways to improve sealing and upgrade spindle performance. SKF USA also can change a grease-lubricated spindle to an oil-lubricated spindle or replace standard steel bearings with hybrid ceramic bearings to extend life or increase speed. He estimates that approximately 10% to 15% of spindle repairs involve upgrades.
"The spindle really revolves around the bearings," he said, noting that 90% of spindles use "super-precision" angular contact bearings, with "super-precision" cylindrical roller bearings coming second — and sometimes it's a combination of the two. "The bearings are the heart of the spindle, and SKF is a bearing company."
Bailey-Beavers emphasized that contamination ingress into the spindle assembly is the main cause of spindle failure, with unbalanced tooling and crashes tying for second.
Hoenig said one way to reduce the risk of contamination is to avoid using compressed air to spray off tooling and spindles, calling the practice "a big no-no."
"Somebody sprays a spindle off to try to clean off the tooling between each part, not knowing that they're causing damage," he said.
Hoenig said high-speed spindles are especially prone to contamination problems because they do not utilize physical seals since they are rotating so quickly. Instead, they have a series of labyrinths, or right-angle turns, to try to keep out contaminants, which may not do the trick when applying high-pressure coolant.
Safe Storage
To avoid excessive equipment downtime when a spindle needs repair, Cvitkovic said it's wise to have a backup on hand. However, users should be aware that problems can arise if a spindle sits too long before being installed.
"In some cases," he said, "we will repair a spindle and send it back to the customer only to have it sit on the shelf for a period that far exceeds the warranty."
Then, if the customer uses that repaired spindle, SKF USA might receive a call about the spindle failing after a short time. The customer sometimes assumes that the spindle is under warranty.
"However, that is not the case," Cvitkovic said. "The warranty starts from when the repaired spindle is received, not when it is put into use."
He said SKF USA offers Spindle Hotel service, which enables customers to store repaired spindles with the company until they need to go into service. The hotel provides secure storage space controlled for temperature, humidity and vibration, plus scheduled test runs.
"For example," Cvitkovic said, "at the six-month mark we'll take the spindle out of the box again, put it on a test stand, run it and reevaluate everything."
Although GTI repairs the full spectrum of machine tool spindles, as well as spindles for other applications, the company steers those with archaic, nonprecision models to get the work done at a local motor or pump shop instead, Hoenig said.
Bailey-Beavers said the only machine tool model for which GTI is unable to repair its spindle is the Makino MAG3 five-axis horizontal machining center.
"This one spindle has black box software that you need to plug into Makino's software to reset the brain of the spindle," she said. "We just don't possess it."
Exceptions aside, Bailey-Beavers said GTI's spindle repair business is growing.
"We're the busiest we've ever been," she said. 
---
When There's a Need for Speed
A way to avoid the need for spindle maintenance on a machining center and to extend spindle life is by simply not using a conventional spindle for high-speed applications. Maxing out the rpm on a machine tool for extended periods of time can put stress on the spindle by creating heat, vibration and thermal distortion, eventually leading to premature failure.
When an operation requires high speeds, consider an electric or a pneumatic spindle as an adaptable option for a machine. This is because adaptable electric and pneumatic spindles are made for high-speed operations. Both options can be used without the worry of constant spindle stress when running at maximum rpm.
Any adaptable spindle that is plugged into the main spindle via the taper would not require the main spindle to be rotating. However, to use different tools on the main spindle, the adaptable spindle must be physically removed.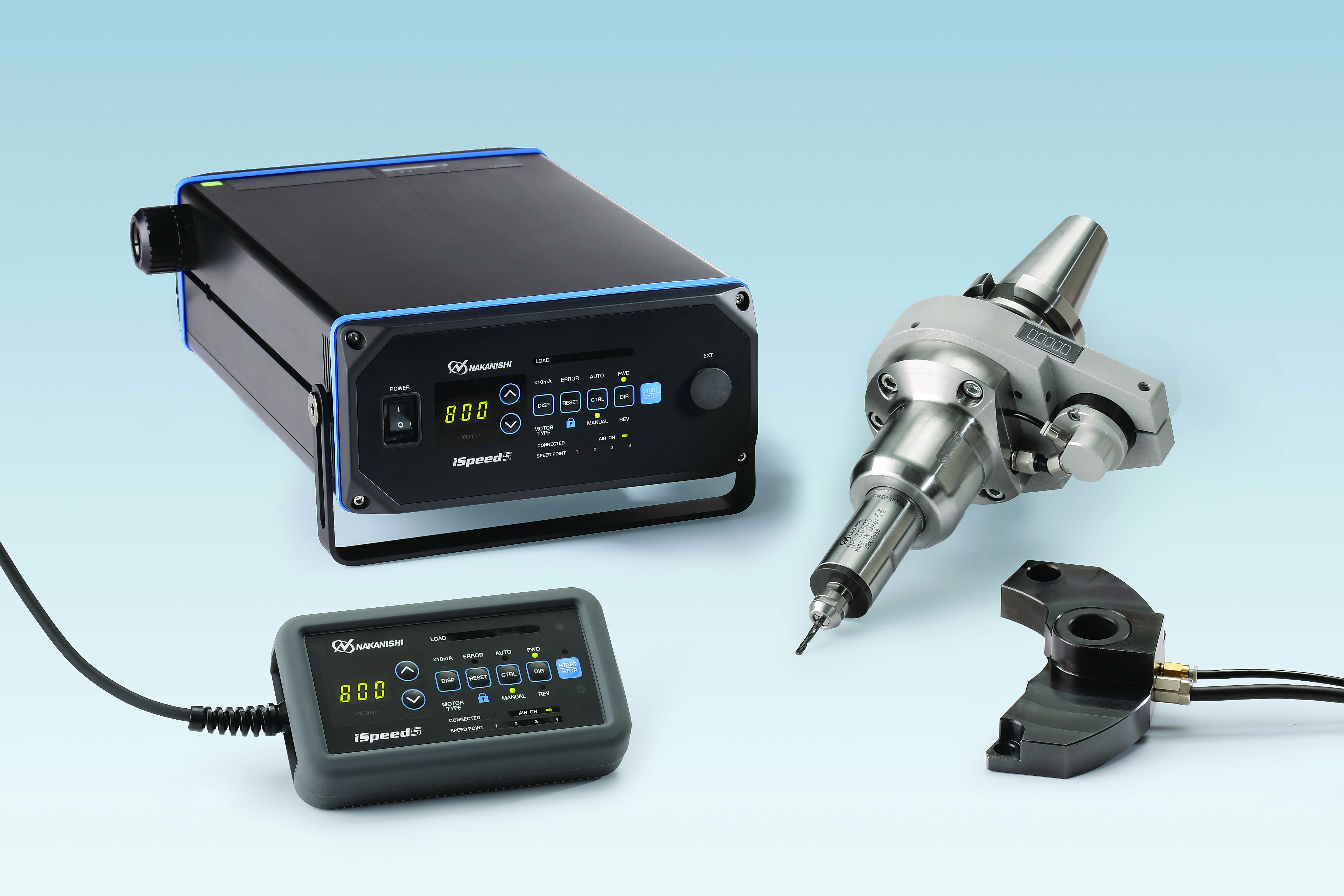 Most of the time, a high-speed spindle is the preferred option instead of installing a spindle speed increaser or multiplier. Primarily intended for use with small-diameter tools, high-speed spindles are made for finishing, surfacing and micromachining, where finesse and precision are required.
Electric high-speed spindles can run continuously at up to 80,000 rpm using an external controller. The controller allows a user to dial in the spindle speed in 1,000-rpm increments and will maintain a consistent speed, even after engaging a workpiece. There is an integrated interface in the controller to allow the machine controller and high-speed spindle controller to communicate.
One drawback to an electric spindle is that it requires a cord connection to supply low-voltage electricity and controller data, as well as an air line to cool the spindle and purge any debris. Although the most common electric high-speed spindles require a cord, premium options exist for fully tool-changeable systems.
Pneumatic high-speed spindles are another option, offering speeds up to 150,000 rpm to save wear and tear on the main spindle. Pneumatic spindles run off a shop's air supply and are essentially plug-and-play. These spindles are simple on/off tools designed to run at their maximum-rated rpm. One drawback is that upon engagement with a workpiece, the rpm will drop and the high speed that the spindle is rated for may not be achieved. There is also no feedback or communication to the machine controller.
Both options are affordable and considerably less expensive than spindle repair work, which can be avoided by not running at high speeds for extended periods of time. Besides reduced main spindle stress, the primary benefits of working with high-speed spindles are reductions in cycle time, extended tool life, higher part accuracy and finer surface finishes.
For more information about NSK America Corp. in Hoffman Estates, Illinois, visit www.nskamericacorp.com or call 800-585-4675.
— Mike Gabris, industrial sales manager