Author
Brandt Taylor
Published
September 18, 2023 - 04:00pm
This month, I'll talk about machining phenolic plastic, also known as Garolite or Bakelite. The material is hard and strong for a plastic and used for a variety of machinery components. It is reinforced with paper or cotton fiber and is a thermoset material, which means that it doesn't melt and retains strength at higher temperatures. Being a plastic, the modulus of elasticity is much less than for metals. Compared with steel, phenolic is about 50 times less, meaning that an applied force will cause 50 times more deflection in a part made from phenolic. When clamping or cutting a part, this fact is important.
From time to time, I get a job to modify a Boston Gear QD60, a spur gear made of phenolic. It has a 5" pitch diameter and comes with a 0.75" bore without a hub projection. The gear needs the bore enlarged to 3" (±0.001"), as well as a bolt circle added. To resize the bore, I clamp the gear in a four-jaw chuck on a lathe. Figure 1 shows the setup. Pieces of aluminum stock are placed between the chuck jaws and the gear teeth. Clamping calls for a light touch so the teeth aren't damaged. These gears are pricey, so I don't want to turn one into scrap.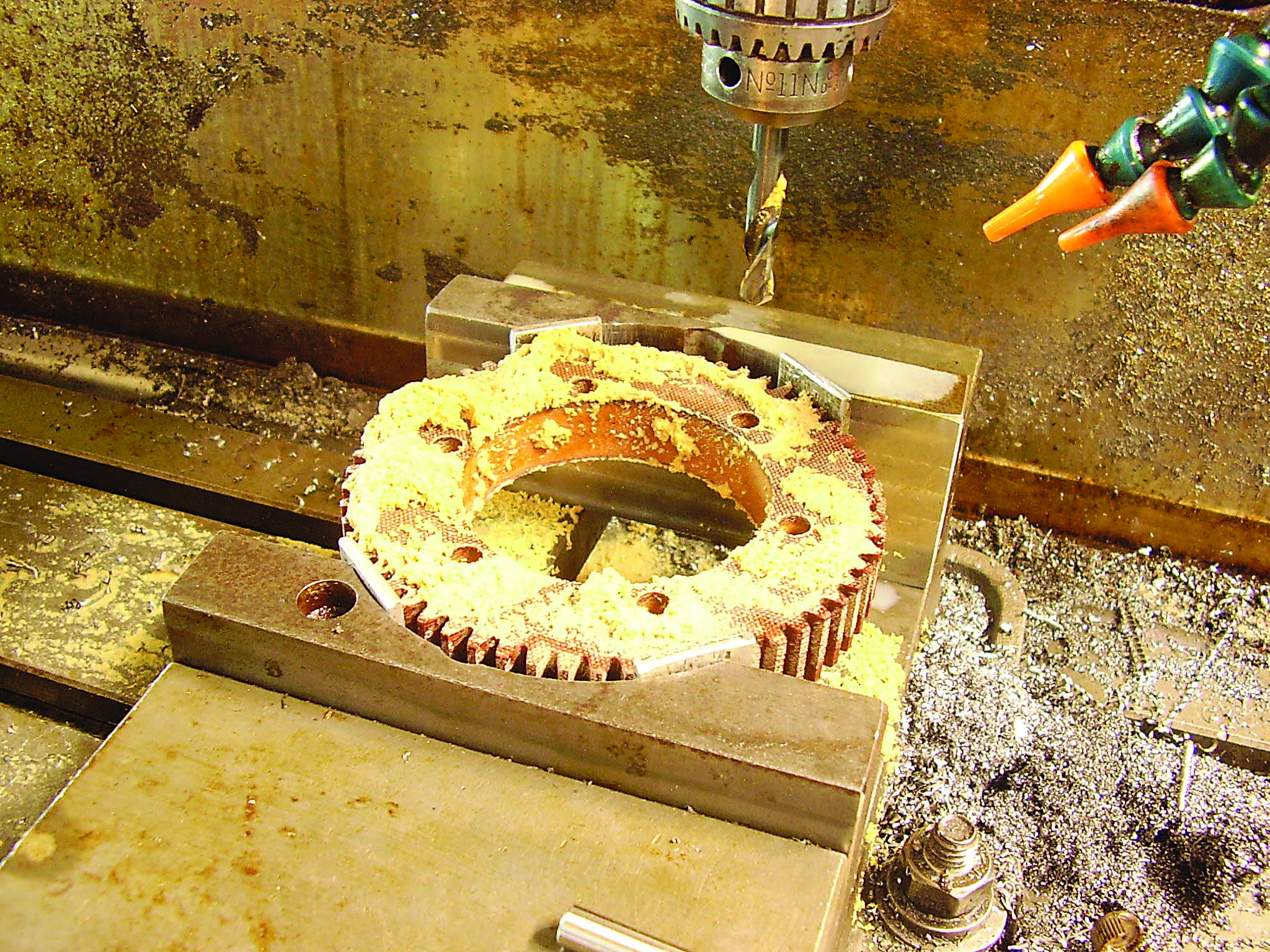 After centering on the 0.75" bore, I use a carbide boring tool to make the 3" feature. I like brazed-carbide boring bars because I can make a very sharp edge and set the tool with a positive rake angle. Due to the low modulus, the material will deflect under the edge if it is not sharp enough. When taking a heavy cut, too much material will be removed. With a light cut, too little material will be removed. If you have fussy features, sharpness and a positive rake matter. I cut this bore at 270 sfm or slower.
The material is abrasive and rapidly wears cutting edges. Since the part is clamped lightly in the chuck, I take light cuts, 0.08" on diameter per pass, until the bore is 0.02" or so undersized. Then I check the cutting edge. I dress it with a diamond file if needed and then hit the finished size. Hitting the mark is the art of a machinist.
This material does not make curly chips; it crumbles when cut and makes toxic dust that's not a good idea to breathe. So if you want to live for a while, take care. I am 75 and don't plan on checking out soon, so I use a dust mask when doing this lathe work.
The bolt circle is drilled on a CNC milling machine in the usual way. Figure 2 shows the mill setup. Be careful because 6" milling vises can generate a lot of clamping force. I find the center with an indicator. If I make more than one part at a time, I check the center on each one. The bolt hole size is 0.3125". I use a high-speed steel, screw-machine-length drill with a peck drilling cycle and Rustlick water-based flood coolant. The coolant takes care of the dust.
Holes are drilled at 700 rpm and a feed rate of 3 ipm. This produces a nice hole with clean edges and no frayed fiber. The combination of abrasive material with a low modulus causes the holes to drill undersized. I use a 0.315" drill and take care to keep the edges sharp. The finished holes are good at 0.31" to 0.314". I check the hole size with gauge pins. A duller drill drills a smaller hole, which clamps on the side of the drill. A little care prevents that. If I made a lot of these parts, I would go to carbide drills, but that would be a whole different story. Like I have said in the past, high production is not my game.