Author
William Leventon
Published
April 24, 2023 - 09:45am
In recent years, you've likely been hearing a lot about the advantages of automation in machining operations. Related to that topic is an important one that gets far less attention: how workholding devices fit into the modern automation cell and the benefits they bring there. Besides improving accuracy and repeatability, workholding can give a big boost to machining efficiency and the output of automated systems.
Common workholding devices include vises, into which blanks are manually loaded outside the machine tool. In automated systems, the loaded vises are picked up by a robot arm and placed into the machine.
One example of this is the RoboTrex automation system from Lang Technovation Co. in Hartland, Wisconsin. The system contains a pair of trolley carts that hold vises loaded with blanks. Loading takes place offline while the machine is running, explained General Manager Jon Dobosenski. Once filled with loaded vises, the trolley cart in the loading area is ready to be wheeled into the machining area, where it takes the place of the other cart, which is filled with vises that hold parts that have been machined. During the machining process, a robot arm picks each loaded vise out of the cart and places it into the machine, then puts it back in the cart when machining of that part is finished.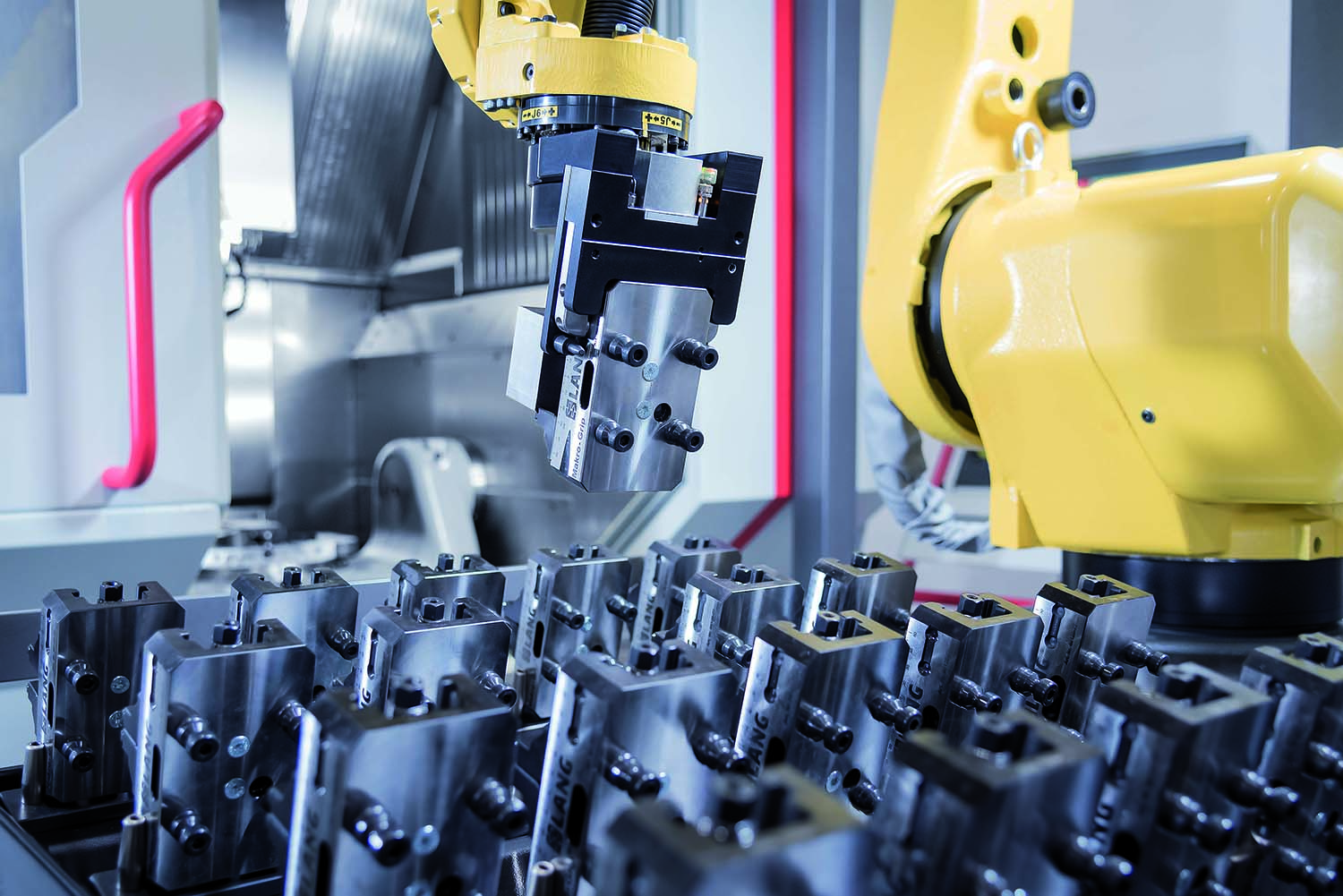 With this dual-cart system, he said, "we can keep the automation process consistent and maximize usage time on the machines."
Workholding devices can include features that make it easier for them to be picked up by robot end effectors. For example, devices sold by Mate Precision Technologies in Anoka, Minnesota, have 8 mm tapped holes that can hold studs or other objects that can be grabbed by an end effector.
"Anything that you want to grip, you just attach it and it works with the end effector system that you have in mind for your automated environment," said Frank Baeumler, vice president of workholding.
Automation Location
To ensure location accuracy when a robot places vises in a machine, they can be attached to a so-called zero-point clamping system that also interfaces with the machine table. A combination of zero-point holes and clamping studs is meant to guarantee quick, firm and accurate clamping.
"You can move precision vises in and out and know exactly where each part is every time you (load) it into the machine tool," said Dobosenski, whose company sells both vises and zero-point clamping systems.
Lang Technovation's zero-point clamping plates come in nearly 50 versions. He noted that plates for bigger parts have larger clamping studs to provide enough holding force to assure accurate machining.
"Once you get into automation," Dobosenski said, "(a zero-point clamping system) helps the whole cycle because you know how
the material is being held and that you're going to get repeatable results."
Accuracy and Repeatability
A variety of such systems are on the market, and the overwhelming majority of them provide location repeatability in the 0.0002" to 0.0003" range when fixtures are moved in and out of a machine tool, said John Zaya, product specialist at Hoffman Estates, Illinois-based BIG DAISHOWA Inc., which sells workholding products. He said this is particularly important in applications that involve automation. When repeatability requirements are extremely demanding, he said a robot arm has trouble meeting them by itself.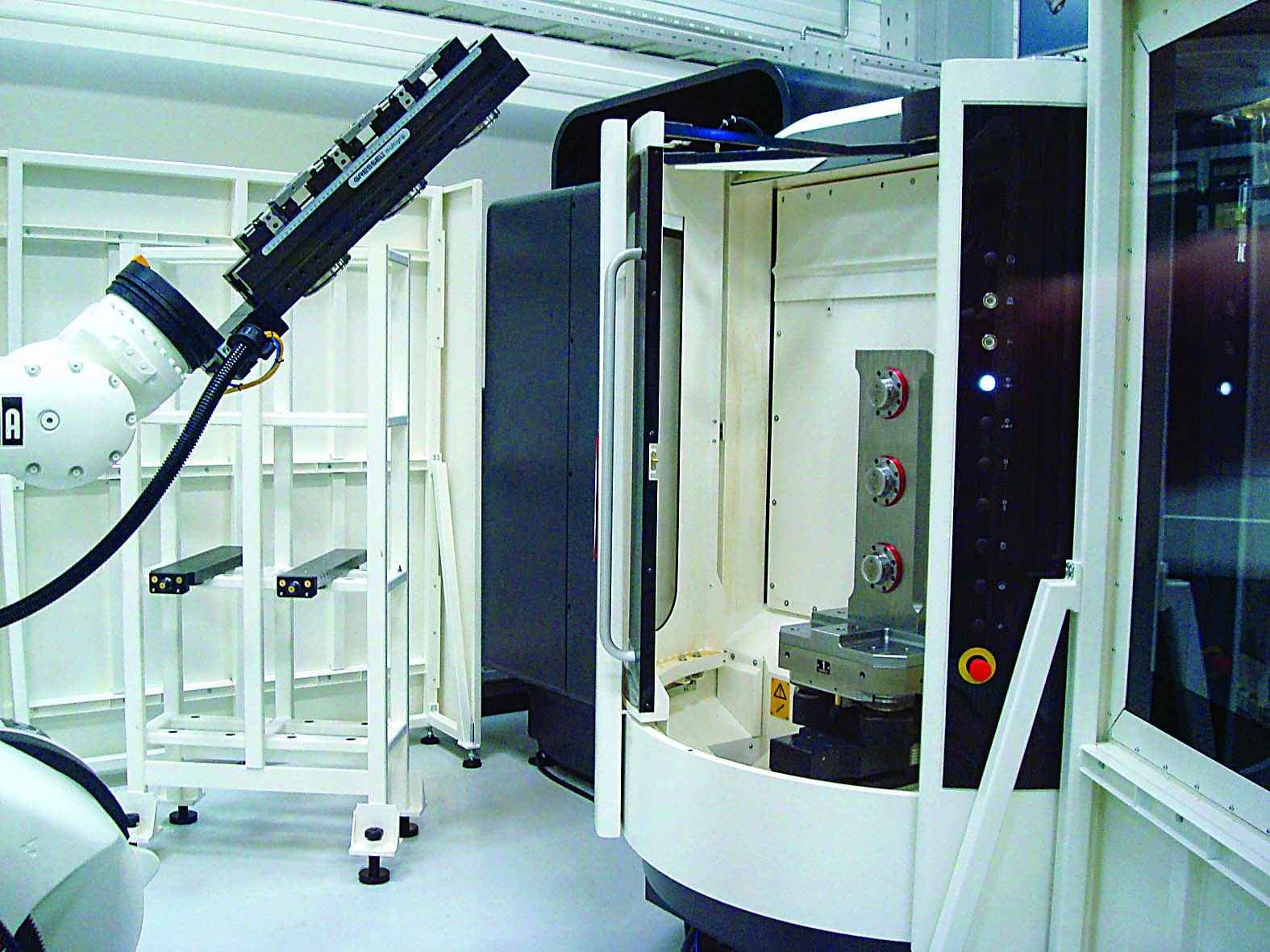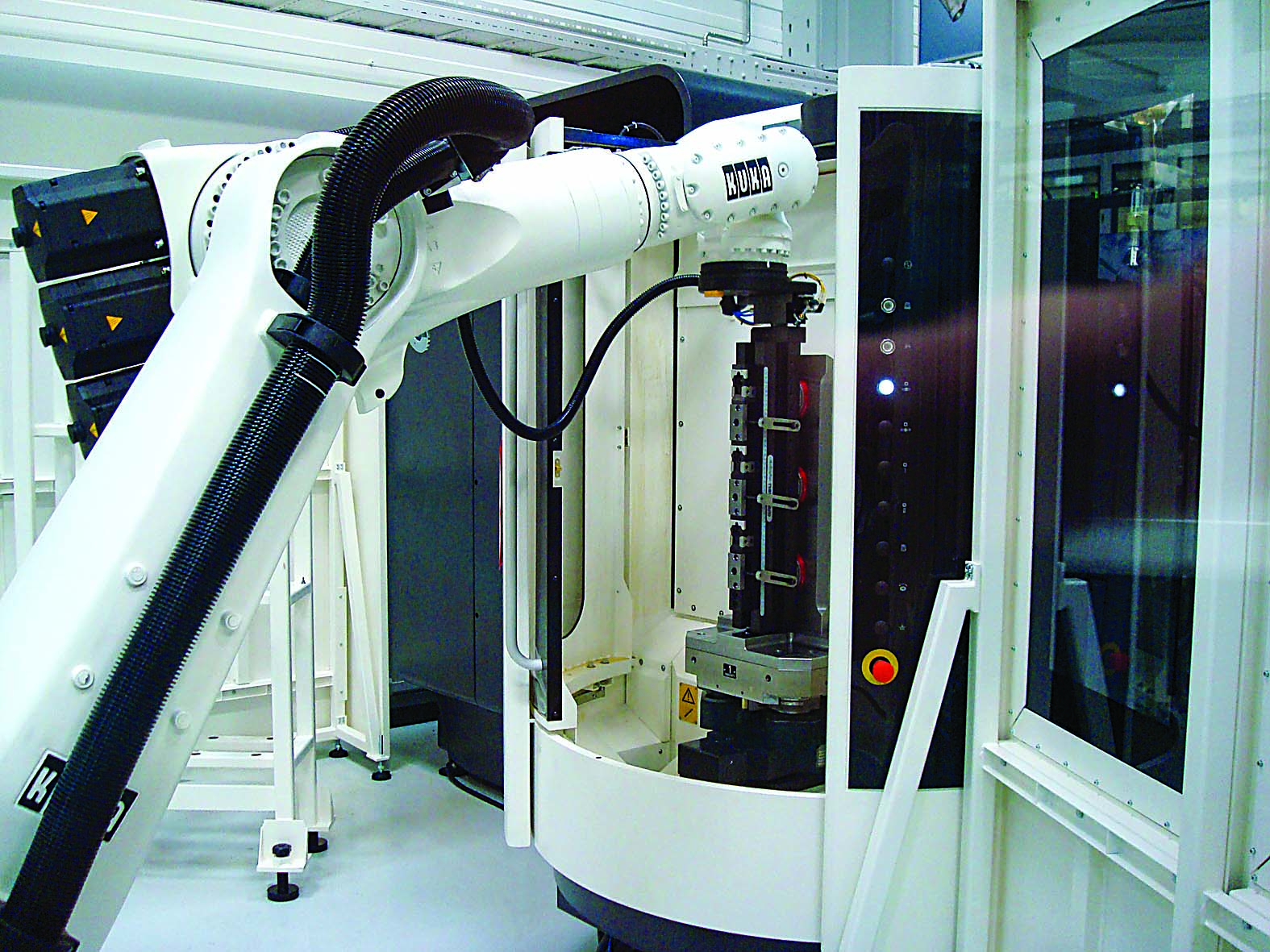 If a shop relies strictly on a robot in these situations, "the robot programming will require constant upkeep," he said. "You have to keep going back in and tweaking the program points where the robot picks and places things." However, "an accurate location system for the pull studs ensures that the process has a good level of repeatability."
In part, accuracy and repeatability of automated processes depend on the cleanliness of mating surfaces.
"All it takes is one loose chip in the wrong place to (produce) a fixture that is not seated completely and correctly," Zaya said. "If you get a chip in between the two mating faces, then that means that chip is not letting the fixture sit flat."
As a result, the locating feature is not properly centered.
In general, Zaya said automated loading and unloading processes need automated cleaning as well. For this purpose, his company sells a device called a Chip Fan. Rotated by the machine spindle, the Chip Fan's blades provide sufficient air power to blow machining debris off critical surfaces. Cleaning with the Chip Fan can be programmed to take place automatically at the end of a machining cycle, before a fixture change is made.
Pallets and Pyramids
Zaya pointed out that many newer automation systems are designed to pick and place assemblies consisting of blanks held by fixtures, such as pallets capable of holding multiple parts. Inside a machine, loaded pallets are often placed on zero-point clamping systems that attach to the underside of a pallet by means of a retention knob or pull stud of some sort, he explained.
"If you have a 12" pallet and your part is 8", you can only fit one part on the pallet," he said. "But if your parts are 3" or 4", you may be able to nest multiple parts per pallet."
Zaya said increased "part density" per fixture is the way that workholding can have its biggest impact on an automated system.
"Having a single part per fixture only makes sense when it's based on part size," he said. "Once you get away from size constraints, having multiple parts per fixture is where an automation system can really shine, particularly with five-axis machines."
In five-axis machining, a common occurrence cited by Zaya is the need to machine four or five parts at a time. In cases like this, he said shops can use a pyramid fixture with four faces and possibly a fifth on top, each of which can hold a part.
"That way," he said, "you're loading a single fixture but with four or five parts on it rather than swapping individual parts or individual fixtured parts."
In addition to saving machine loading and unloading time, Zaya said fixtures that hold multiple parts can have a positive impact on the machining process itself. Consider, for example, a pyramid that holds a number of parts. Once it is loaded into a machine tool, the machine can work on all the parts at the same time, cutting the features in all the parts that require one particular cutting tool, then changing to another tool and cutting the features in all the parts that require that tool, and so on. Comparing this process with one in which each part is loaded and machined separately, the pyramid option would necessitate far fewer tool changes.
So he said fixtures that hold multiple parts offer a pair of important benefits.
"You're able to gain efficiency by reducing the number of tool changes and by reducing the number of fixture changes," Zaya said. 
---
Gateway to Product Data
When it comes to workholding, automation isn't limited to robotic picking and placing. To help customers get access to accurate, up-to-date product information, Mate Precision Technologies has embedded a QR code in its vises, bases and other workholding products. The code serves as a link to Mate Precision Technologies' database, which contains a wealth of information about each of its devices. This includes the device's born-on date, torque settings, tolerances, CAD drawings and maintenance recommendations.
To access this information, all users need is a cellphone.

"Say you're on the night shift and you have to put (a workholding device) in the machine, but you're not sure what it is and the front desk is closed. How will you find out quickly?" said Frank Baeumler, vice president of workholding. "All you have to do is pick up your phone and scan that QR code, and you'll have all of this information right on your phone. So you can get your machine into green-light time quickly because you're not running around looking for paperwork or looking for another human to help you."
In addition to getting information in real time, operators can be sure that what they're seeing on their phone screens is the latest on the subject.
"The QR code points to a database that we control," Baeumler said, "and we update the documents."       
 — William Leventon
Related Glossary Terms
computer-aided design ( CAD)


computer-aided design ( CAD)

Product-design functions performed with the help of computers and special software.

fixture


fixture

Device, often made in-house, that holds a specific workpiece. See jig; modular fixturing.

flat ( screw flat)


flat ( screw flat)

Flat surface machined into the shank of a cutting tool for enhanced holding of the tool.