Author
Mark Backus
Published
July 07, 2023 - 04:30pm
When manufacturers look for ways to improve machining productivity, they usually start with metal cutting efficiency. But machine utilization has an equally, if not more, important impact on productivity. A stopped machine directly affects production output, and the only time that a machine makes money is when the green light is on.
So what are the typical time killers that keep machining time and profitability low? Setting up machines for a new batch of components, measuring and touching off tools, adjusting coolant lines to get coolant to the cutting area and not having backup tools when a crash happens all contribute to lengthy downtime. Also, machining operations can be interrupted for changing out worn cutting tools, removing chips or changing components.
How cutting tools are loaded and measured has a major influence on machine utilization. Relying on traditional toolholders requires much longer stoppages, more often, to change out tools and set up a machine — anywhere from five to 30 minutes depending on the tools and application. That time lost can add up quickly to a lot of unproductive, unprofitable hours that could be avoided.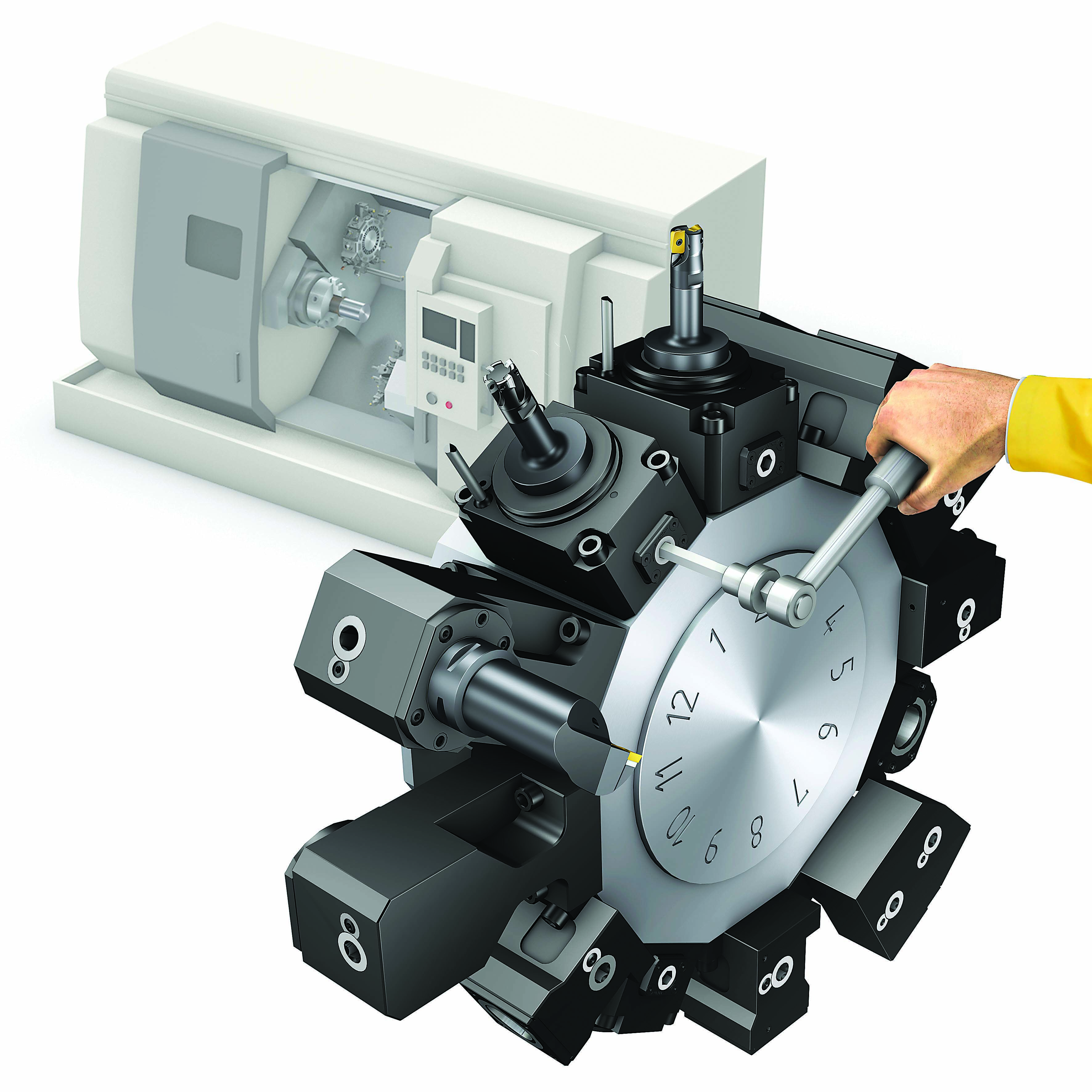 For this reason, quick-change toolholders are becoming an increasingly powerful way to reduce downtime and improve productivity. Today's solutions do more than reduce time spent on measuring, setting up and tool changing — they also can offer a range of features that improve metal cutting efficiency, tool life and maintenance.
Speed Up Setup Times
CNC lathes and sliding head machines have fast tool indexing, but they often have lower utilization than machining centers because of the time that it takes for setup and tool changes. Here, quick-change solutions can make a big impact on utilization by dramatically reducing changeout times. Swapping turning tools may go from 10 minutes to 30 seconds, and driven tools might go from 20 minutes to 30 seconds. There are even more advantages for boring bars, which can be more time-consuming because of center height setting and coolant plumbing. With a quick-change solution, they could be changed in less than a minute, with better accuracy.
But how do you achieve these advantages? There are a number of features to look for in a quick-change solution that will ensure faster tool changes and setup times. The stability and sophistication of the coupling design play an important role. Designs that use loose parts like pins can mean more fumbling with changes and less accuracy. And couplings that rely on moving parts like ball bearings may wear out more quickly.
The coupling design in Sandvik Coromant's Capto system, for example, uses a triangular polygon shape with a tapered contact surface for quick, accurate positioning within 2 µ. The coupling locks into place and centers itself by locating off of the three polygon lobes. The large contact area of the coupling also improves rigidity and maximizes even torque transmission. With this patented design, clamping the cutting unit in a static or driven toolholder can be achieved manually with a quarter turn of a hexagon key or with an automated solution in a machine tool spindle.
Improve Flexibility
Other critical features that manufacturers should look for in a quick-change solution are range and modularity. Some toolholders may offer a quick-change solution for one machine or a specific tool size, but a piecemeal approach will greatly limit your time-saving opportunities to improve utilization.
Systems like Coromant Capto, for example, offer a full range of quick-change options, extensions and reductions for all types of turning and rotating tools. The system also provides a universal coupling design to enable the use of quick-change solutions interchangeably on any machine. This added flexibility considerably increases the area of opportunity for faster tool changes and setup times, especially for industries that use complex assemblies and longer tools, such as aerospace.
Quick-change systems help operators change worn tools faster as well. Changing a solid-carbide tool requires recalibration of the offset, and indexable mills and drills have multiple inserts that need to be changed. Doing this while the machine sits idle can eat up valuable time. But with a modular quick-change solution, operators can use a sister tool to quickly change the tool in the machine and then change the inserts and endmills outside the machine as it is making parts. With this method, an operator could set up a duplicate tool and toolholder while the machine is in operation. When it's time for a tool change, everything is ready to go in advance. The sister tool can be inserted, and the machine is back up and running within seconds.
With a modular quick-change tooling concept that uses a universal system for swapping tools, operators have far more flexibility with machines. This can make it possible to reduce the number of steps needed to machine a component, or it can help shops streamline overall toolholding.
Through-Coolant Delivery
Coolant delivery is another important consideration when choosing a quick-change solution. Advanced systems are designed with lubrication channels built in to the toolholder that deliver lubricant through the turret and holder and straight to the tip of the tool. This further speeds up setup times by eliminating the need for unwieldy hoses and plumbing that complicate tool setting. It also provides more efficient coolant delivery that can significantly boost tool life and productivity.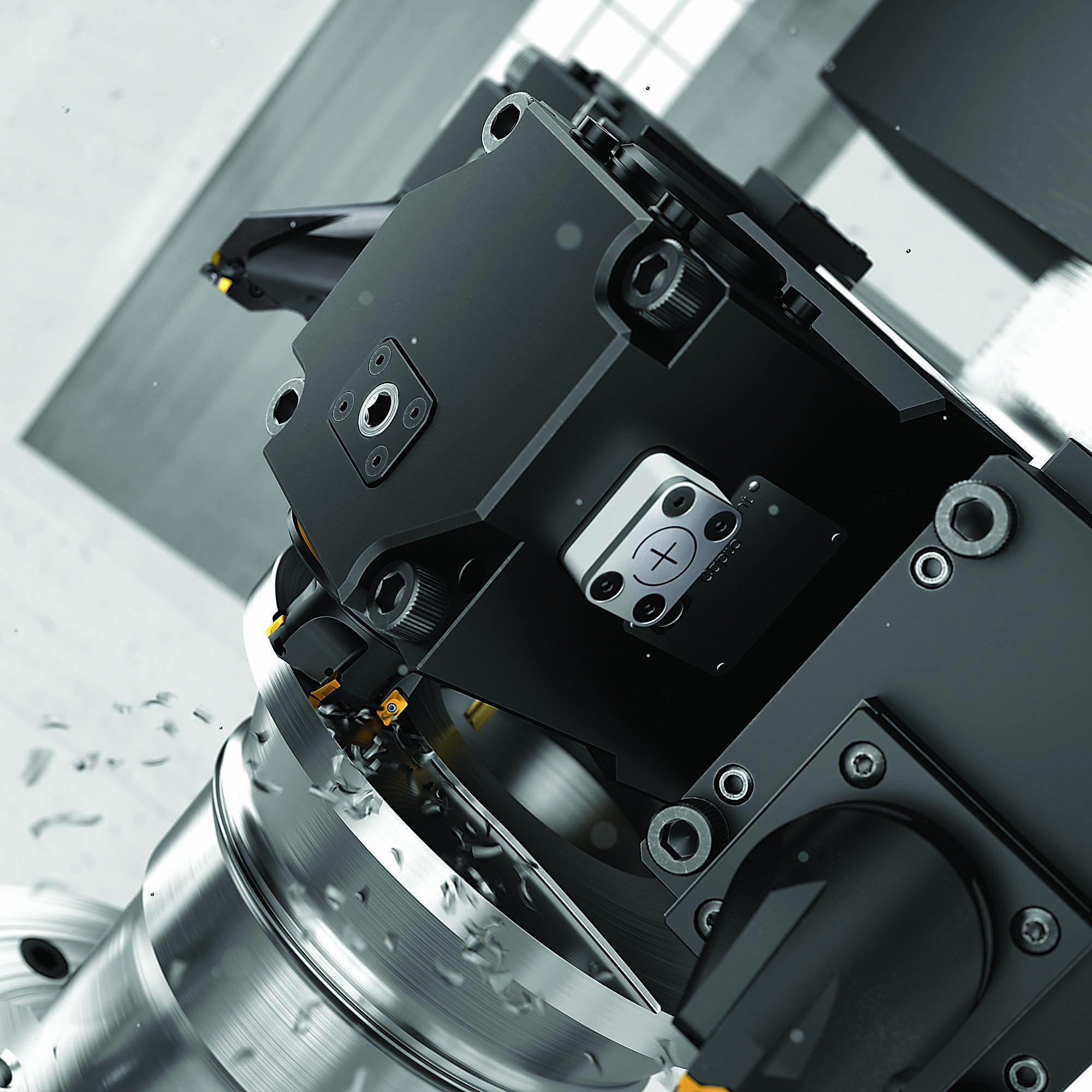 With advances in quick-change design, high-pressure coolant delivery is possible too. Some toolholder designs use high-pressure jets to deliver coolant, which not only cools the cutting tip but helps break chips and improve chip evacuation. These systems additionally improve uptime by reducing the risk of chip jam-ups and bird nests. The high-pressure delivery also can contribute to much higher cutting speeds.
Predictive Maintenance
The latest innovations in driven toolholder technology dramatically expand the potential benefits of quick-change solutions. A new generation of driven holders like Coromant Capto DTH Plus uses embedded sensors to gather data in real time and transmit via Bluetooth to a tablet or computer outside the machine. With these advances, operators may continuously monitor the toolholder to get critical information.
This data tells the user when it is time to send out the quick-change unit for service, enabling a new level of predictive maintenance that can save significant downtime for machine shops. The sensors also transmit the temperature of the toolholder, vibration levels, rpm and the direction of rotation, as well as historical information about the equipped tool. This data is useful not only for assessing the health of the tool and holder but for optimizing cutting speeds for longer tool life. And with quick-change functionality, the time that operators spend on measuring, setting up and changing tools is minimized.
With a connected quick-change solution, shops can make informed decisions about when to replace a holder or tool or when to schedule a maintenance stop based on need instead of guessing at when maintenance is needed or waiting until there is a problem. As a result, manufacturers can achieve maximum machine utilization through predictive maintenance and ensure that their shops run at peak efficiency.
Beyond Technology
When choosing a quick-change system, technology is only part of the equation. The people behind the technology and the level of service they provide are also important considerations. Should something go wrong with a driven toolholder, for example, having a provider with an efficient repair service for quick-change solutions can be a major benefit to production. Repairing complex parts like driven toolholders could be very time-consuming, but some providers, such as Sandvik Coromant, have dedicated service centers that can repair a quick-change clamping unit and ship it back with short lead times.
If you're just getting started with a quick-change system, working with a provider that offers a full range of solutions and expert services will ensure that machines are set up optimally. Such a supplier can share experienced guidance on the right hardware to use and offer useful advice to optimize the process. With a robust quick-change solution backed by an expert partner, machine shops can maintain greenlight machining to maximize productivity.