Author
CTE Staff
Published
May 18, 2022 - 09:00am
A hand-held fire extinguisher is effective for putting out a small fire, such as a grease fire in a kitchen, but is overmatched when a CNC machine tool catches fire. The latter requires an industrial-strength solution to douse the flames in seconds and save the expensive piece of capital equipment.
John J. Koerner III learned that lesson after a carbide drill broke when machining a titanium screw on a Citizen A20 Swiss-style machine. The resulting spark ignited the oil-based coolant, which is applied at 138 bar (2,000 psi).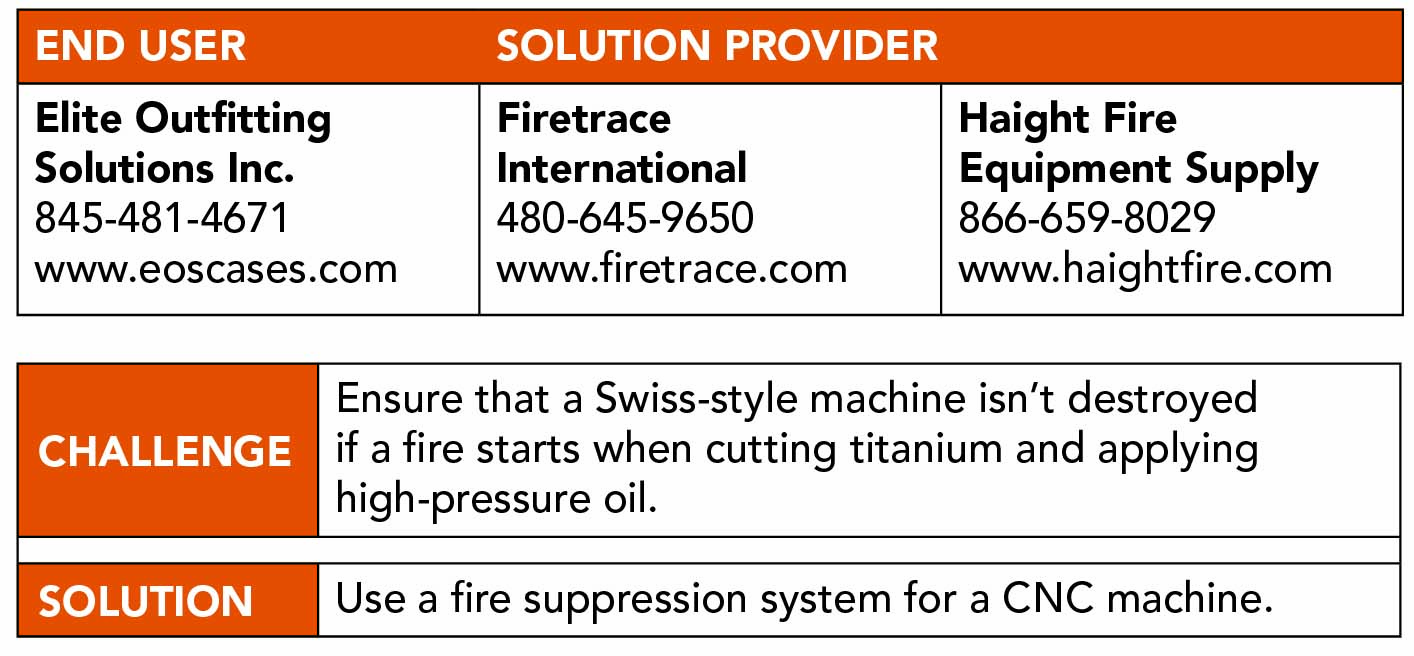 He is president of Elite Outfitting Solutions Inc. in Goshen, New York, a four-person machine shop that makes more than 100 everyday-carry products, such as metal wallets and knives, and performs contract machining at an approximate 557-sq.-m (6,000-sq.-ft.) facility.
Although still relatively small, EOS has grown by leaps and bounds from its origins in 2011. While still in college, Koerner worked at Orange County Choppers in Newburgh, New York, the setting of the "American Chopper" reality television series. In addition to making motorcycle parts, such as "crazy wheels," he started making his own line of CNC-machined wallets and selling them online. As demand grew, renting machine time at the shop didn't enable him to produce as many wallets as needed, so he took out a loan for a Haas vertical machining center and struck out on his own in 2014.
After buying a second Haas VMC, he needed a better way of producing the short titanium and stainless steel screws for the wallets rather than buying readily available longer screws and manually grinding them to length. He said other shops either passed on cutting the required-size screws or quoted an exorbitant rate. He sought another Haas machine, but the dealer said the machine builder doesn't offer what is needed for that task and directed him to a distributor of Citizen
Swiss-style machines. However, the purchase of a model A20 machine necessitated an additional investment.
"They said, 'If you are going to run titanium, you need to put a Firetrace on the machine because you are running straight oil," Koerner said about the fire suppression system from Scottsdale, Arizona-based Firetrace International. "At the time, that was a lot of money for a fire extinguisher."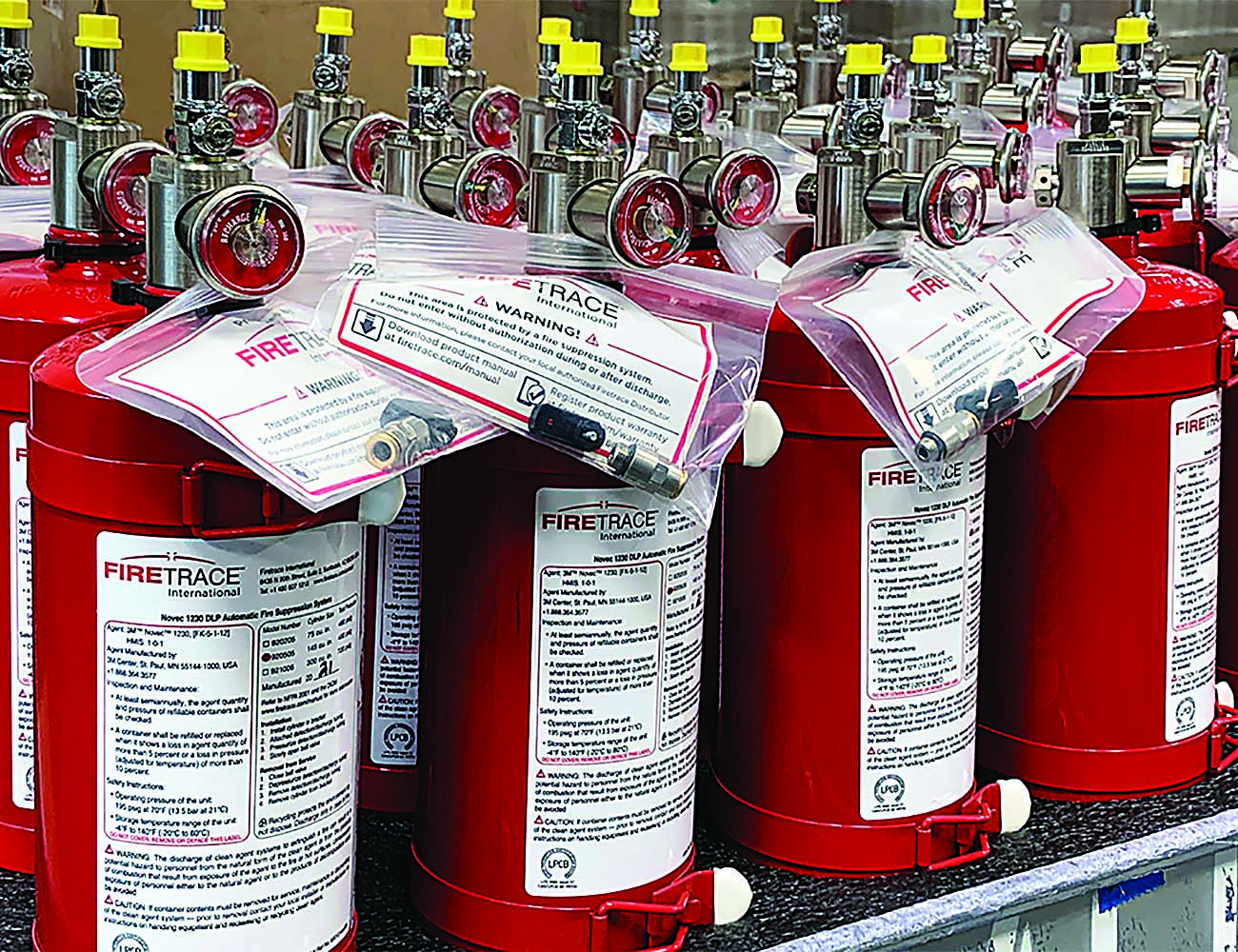 Nonetheless, he bought the system from Haight Fire Equipment Supply in Newburgh and said he's thankful he did.
"You'd have to be out of your mind to not buy a Firetrace system if you have a machine that has oil coolant," Koerner said, noting that applying water-based coolant in the Citizen risks poor tool life and rust issues. "I would never put myself at that risk."
The fire suppression system was put to the test when he was alone at the shop and the Swiss machine was cutting a titanium screw with a 1.981 mm (0.078") drill at 50,000 rpm. The drill broke, created a spark and set the machine on fire.
"It was a fireball," Koerner said. "It blew the door wide open. It scared the hell out of me."
Fortunately, he said the system functioned as intended, extinguishing the flames in about five seconds. The resulting damage to the $250,000 machine, now with some soot on it, was minimal. Haight Fire Equipment Supply cleaned the machine, replaced the system's plastic air lines that had melted, and recharged the system.
Koerner also had Citizen power up the machine and run tests to ensure that there was no equipment damage, such as to the electronics. He felt relieved that everything was OK. He was concerned as well that the fire had compromised the cooling and lubricating properties of the oil.
"The oil was all good," he said. "We just added some fresh oil to the old oil and kept rolling."
Koerner said the fire suppression system has flexible air lines that are pressurized and positioned inside the working area of a machine. This tubing is heat- and flame-sensitive, and the pressure inside the tubing holds a valve shut. When the tubing detects a fire, the tubing ruptures, which opens the valve and causes the system's entire canister of 3M Novec 1230 clean agent for fire suppression to discharge and extinguish the flames.
"Once that valve opens and dumps the suppression agent, it also hits an electronic switch that puts the machine into e-stop and powers down the machine," he said. "If I didn't have Firetrace on that machine, it wouldn't shut the machine off and it would have still been pumping oil. If I was there, the machine would have been ruined. And if I wasn't there, my whole shop would have probably burned down. Not to mention, we're not the only business in this building."
Even with insurance on the machine, replacing it would take at least two months and be catastrophic to the bottom line of the shop, Koerner said, because EOS uses the Citizen to make not only its own screws and other parts but "hundreds of thousands of screws" for other companies.
"Instead of all that, I recharged the Firetrace system, and I was back up and running in three days," he said. "Firetrace saved my bacon."