Author
Alan Richter
Published
October 01, 2013 - 10:30am
A "nano-onion" sounds like a topping for the world's smallest pizza. In reality, it's the core constituent of the Tool-X nanofluid that's added to oil- and water-based metalworking fluids, noted Jim English, president of Nano Synthetics, which makes the additive that also contains deionized water.
According to the company, the nano-onions are particulates that measure about 10nm in diameter and are created through detonation synthesis, a process that transforms explosives into carbon-based nano-onions, which can absorb lubricants. The structure consists of a hard diamond-like core and an outer shell of amorphous carbon and graphene.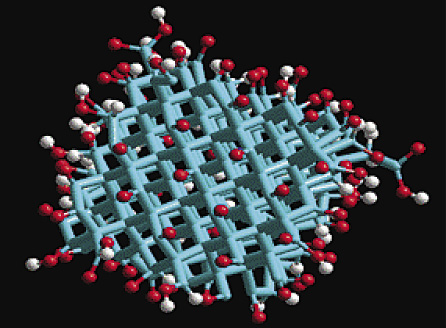 Courtesy of Nano Synthetics
English explained that nano-onions are excellent lubricants because they remove heat from the cutting tool and don't break down in the high temperatures found at the cutting surface. "Graphene is the most thermally conductive material known to man, and Tool-X conducts heat from the coolant and tool, minimizing the need for chillers," he said. "Graphene technology is the future of lubrication."
English added that, as a result of better lubrication and lower temperatures, the product extends tool life and allows end users to boost machining parameters 10 to 20 percent and impart finer surface finishes, eliminating the need for secondary operations. For instance, Ron Wellington, president of Bernal Products Inc., Romeo, Mich., reported that tool life tripled for the shop after adding Tool-X to its semisynthetic cutting fluid and enabled it to machine unattended without breaking a tool.
And in a high-volume application cutting 4140 steel with a Promax ½ " carbide endmill on a horizontal machining center, spindle loads were reduced up to 75.1 percent by using the nanofluid additive, according to the Nano Synthetics.
Instead of depositing a coating on a cutting tool, the nanofluid additive enables the coolant to coat a tool. According to Nano Synthetics, research it conducted with Drexel University found that the nanoparticles shot peen the surface of a cutting tool, smoothing it and filling surface micropores. The repeated shot peening under the cutting process' high pressure and high temperature impinges the lubricious nanoparticles into the tool surface, thereby reducing friction during cutting.
In addition to using Tool-X in wet machining and through-coolant applications, English noted the company is working on minimum-quantity lubrication applications, as well as developing an additive for synthetic fluids.
For more information about Nano Synthetics, Rochester, Mich., call (248) 495-4367 or visit www.tool-x.net.